McMillan, Richard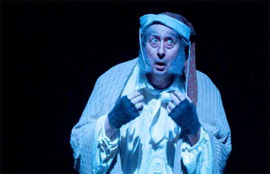 Richard McMillan as Scrooge, Citadel Theatre 2010.
Versatile character actor, born in 1951 and based in Toronto Ontario. He died of thyroid cancer February 19 2017. Richard McMillan grew up in Beaverton in the Kawartha Lakes district of Ontario, where his adoptive parents ran a hotel for 39 years. He was married to actress Anne Louise Bannon, and has one daughter. He was particularly adept at portraying sympathetic villainous characters in theatre and film.
After two years studying theatre at Ryerson Polytechnical Institute, McMillan worked in theatres across Canada, England, and the United States. In the 1970s, he "cut his teeth" at the Stratford Festival in Robin Phillips's company. During his eleven seasons at Stratford, he played Edgar in King Lear; Pooh Bah in a popular production of The Mikado (1982-84) which travelled to London and New York; Klestakov in The Government Inspector; Sir Andrew Aguecheek in Twelfth Night; Richard III; Cassius in Julius Caesar; Jacques in As You Like It; and Antonio in The Merchant of Venice. He also performed at the Shaw Festival; Tarragon Theatre (Prague, 1984, An Enemy of the People); Canadian Stage (The Pillowman); Factory Theatre; Theatre Passe Muraille; Necessary Angel (Inexpressible Island 1997, and Tamara 2003); PostScript Productions, Stratford (Goodnight Disgrace, 2004); Pleiades Theatre (Manon, Sandra and the Virgin Mary by Michel Tremblay (2013).
He played Scar in The Lion King in 2000; and Saruman in the Toronto world premiere of The Lord of the Rings in 2006, both at the Princess of Wales Theatre; and Father O'Donnell in The Boys in the Photograph at the Royal Alexandra Theatre in 2009. As Scrooge in The Christmas Carol (adapted by Tom Wood, Citadel Theatre 2010 and 2011), he displayed emotional flexibility and depth. More recently, he played the uncle in War Horse (Princess of Wales Theatre, 2012).
In the United States, amongst many other roles, he played Spooner in Harold Pinter's No Man's Land, and Rumsfeld in David Hare's Stuff Happens, both at the Pittsburgh Irish and Classical Theatre.
He also acted extensively in television and film, including The Wars, Shadow Builder, A Map of the World, The Day After Tomorrow and The Fountain.
He received four Dora Mavor Moore Awards, a Gemini, and the Toronto Theatre Critics Award in 2011 for the role of Mandelstam in After Akhmatova (Tarragon Theatre, 2011).
Profile by Anne Nothof, Athabasca University.
Last updated 2017-03-05