Medd, Nathan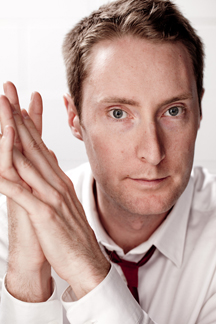 Nathan Medd
Photo courtesy:Michael Julian Berz
Artistic Producer at Vancouver-based Electric Company Theatre from 2007 to 2013, Nathan Medd was born on Vancouver Island, British Columbia.  He graduated from the Theatre and English departments at the University of Victoria.
Joining first as Managing Producer of Electric Company, Medd produced large touring works including Studies in Motion (Festival TransAmériques, Canadian Stage, Citadel Theatre, Alberta Theatre Projects, Vancouver Playhouse, Yukon Arts Centre); and No Exit (San Francisco's American Conservatory Theater, Western Canada Theatre, Nightwood Theatre, Theatre Calgary /High Performance Rodeo.
He appeared as a performer in Electric Company's The Flannigan Affair (HIVE / Magnetic North Theatre Festival), and onscreen in Tear the Curtain! (Arts Club Theatre / Vancouver 2010 Cultural Olympiad, and Canadian Stage). The company's work, in collaboration with Electric Company founding artists Kevin Kerr, Kim Collier, Jonathon Young,, David Hudgins, and a community of freelance artists, has been consistently cited by major media outlets for matching world-class standards of artistic excellence and technical innovation.
Medd is the co-founder of two Vancouver theatre spaces that are seen as central to innovative, independent performing arts production in British Columbia: Progress Lab 1422, a multi-tenant creative centre in East Vancouver (now home to Electric Company as well as Boca del Lupo, Rumble Theatre, and Neworld Theatre), and the 200-seat Metro Studio Theatre in downtown Victoria, a flagship venue for that city's independent dance, theatre, and music scenes since 2005, operated by Intrepid Theatre.   In 2012 Medd co-founded a cultural property management non-profit called the Vancouver Creative Space Society, which holds the lease on PL 1422.
Medd has also served as Theatre Program Coordinator at the BC Arts Council. 
From 2014 to 2017, he was Managing Director of English Theatre at the National Arts Centre, working with a team that produced Canadian works by collaborating with artists and arts organizations across the country. He also worked with Artistic Director Jillian Keiley and Associate Artistic Director Sarah Garton Stanley to initiate the Department of Indigenous Theatre at the NAC.
In 2018, Medd relocated to Banff Centre for the Arts as Managing Director of Professional Arts, overseeing educational programs and residencies in the performing arts including: Theatre, Dance, Opera, Classical Music, Jazz, and Contemporary Music (Banff Centre website).
Last updated 2022-06-27