Beatty, Nancy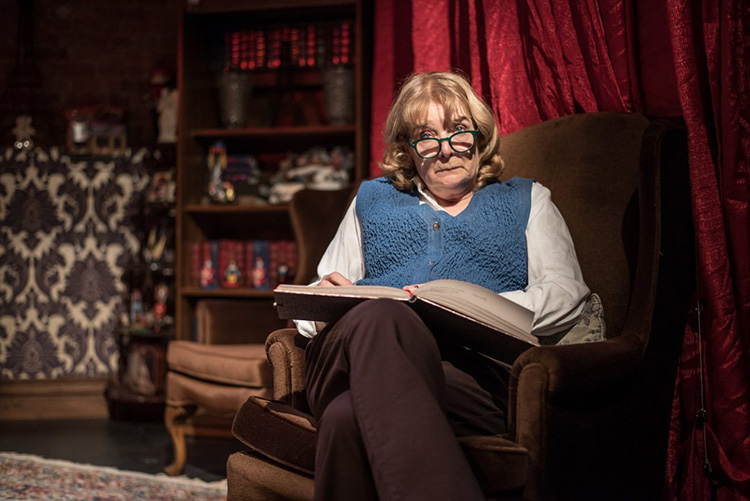 Nancy Beatty as Mertis in John, Company Theatre, 2007
Award-winning actor, based in Toronto, with an affinity for black comedy and the plays of George F. Walker. Nancy Beatty has performed in many major theatres across Canada, including the Stratford Festival (Les Belles Soeurs, Billy the Kid); Tarragon Theatre (Past Perfect); Factory Theatre (Escape from Happiness); Theatre Passe Muraille (By Grand Central Station I Sat Down and Wept, 2006, and The Stone Angel); the Blyth Festival (The Ginko Tree); Great Canadian Theatre Company (Better Living); Canadian Stage; and Theatre Calgary (The Glass Menagerie.
Nancy Beatty has won four Dora Mavor Moore Awards for her roles in George F. Walker's Love and Anger (Factory Theatre,1990), in Morris Panych's 7 Stories (Tarragon Theatre, 1991), as the 90-year-old Georgia O'Keeffe in John Murrell's The Faraway Nearby (Tarragon,1995), and in Walker's Risk Everything (Factory Theatre,1999). She was also nominated for a Dora in 1986 for Don Hannah's The Wedding Script, and in 1997 for Carole Fréchette's The Four Lives of Marie (Tarragon, dir. Jackie Maxwell).
In 2017, she appeared as the shy and secretive host of a Gettysburg B&B cluttered with voyeuristic dolls and figurines, in the critically acclaimed Company Theatre production of John by American playwright Annie Barker. "Although she seemed sweet and somewhat batty at first, Beatty slowly revealed a deep and thoughtful inner world with a rich capacity for beauty" (www.mooneyontheatre.com/2017/02/01). Beatty was nominated for a Dora for her performance.
In film, she appeared in The Michelle Apartments, Henry & Verlin, Life with Billy, The Confessor, Casino Jack, Lars and the Real Girl, The Shipping News and For Those Who Hunt the Wounded Down. In 1994, she was nominated for a Genie Award for Best Actress for Henry & Verlin.
Beatty has acted on television since 1979, appeared in over fifty productions from Anne of Green Gables (1985) to Murdoch Mysteries (2017). She was nominated for a Gemini Award for Best Performance by an Actress in a Guest Role in a Dramatic Series for an appearance on This Is Wonderland (script by George F. Walker).
Profile by Anne Nothof, Athabasca University
Last updated 2018-10-31