Nelson, Greg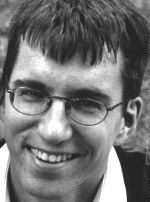 Greg Nelson
Playwright born in Northern Ontario in 1965. Greg Nelson was raised in Central Canada, and graduated from the University of Alberta with an MFA. Both of his parents were United Church ministers, and his works are often preoccupied with the nature of morality and truth.
His first produced work, Sidney (25th Street Theatre, 1992 dir. Patti Shedden) portrays an amnesiac living in a 7-11, who searches for his past in a drug-house.
Nelson won the Sterling Award, Canadian National Playwriting Competition, and the Alberta Book Award for his thesis play, entitled Castrato (Theatre Network, 1993, directed by Stephen Heatley, and also adapted for CKUA's "Theatre of the Air"). In his program note for the production, Heatley opined that "The play speaks to him of the need for grace in our lives." Two brothers reunite when one applies for the position of minister at the other's church, intent on challenging the received teachings of the Bible, and of the reactionary preacher is who retiring. He believes that Christian words and deeds have effectively castrated those who believe them, only to discover that in his lack of belief, he is emotionally and spiritually castrated.
Nelson's next play, North, won the Herman Voaden Playwriting Competition (1999) and was presented as a staged reading at playRites (2000). It premiered at the Grand Theatre, London in 2000. When a university professor travels to northern Canada with his lover to find adventure, he encounters a landscape of mystery and suspicion.
In Speak (Alberta Theatre Projects, 1998, dir. Ruth Smillie) a woman seeks the truth about her husband's dubious past with the help of an even less trustworthy MLA from Saskatchewan. It was subsequently performed in Regina, Edmonton, Saskatoon, Sudbury, Winnipeg, and Whitehorse (1999), and published by Playwrights Canada Press.
In 1999, Nelson co-adapted (with Ian Prinsloo) Dickens' A Christmas Carol for Theatre Calgary.
Spirit Wrestler premiered at 25th Street Theatre, 1995, and was revived July, 1998 (dir. Tom Bently-Fisher). It was published by Coteau Books, and was winner of the Alberta Book Award for Drama, 1998. It portrays the violent persecution of the Doukhobors in Russia and their emigration to Canada at the end of the 19th century from the perspective of an ardent believer who eventually loses his faith.
In The Fall (Great Canadian Theatre Company 2006, dir. Eda Holmes), two actors play two characters each, peeling back successive layers of identities during an encounter in the basement of a government building in Ottawa.
Greg Nelson has also written extensively for radio. His radio comedy series The Dudley Chronicles played for 23 episodes on the CBC, and he has co-written with Hannah Moscovitch, Alan Pettle and others a series about Canadian soldiers in Afghanistan for CBC Radio Drama entitled Afghanada (2006-11).
For television, he wrote for the CTV legal drama The Associates and for CBC's The Border. Recent credits include writer and co-executive producer on the Emmy Award-winning series Orphan Black and on the Netflix fur-trade drama Frontier.
Greg Nelson has been Playwright-in-Residence at Canadian Stage Company and Tarragon Theatre (2006).
He currently resides in Toronto.
Profile by Anne Nothof, Athabasca University
Last updated 2021-07-07