Palk, Nancy
Acclaimed actor, director, educator, born in Winnipeg, Manitoba, Nancy Palk was raised in Winnipeg and London, Ontario. Her father was on the board at the Manitoba Theatre Centre when John Hirsch was the Artistic Director, and when actors such as Douglas Rain and Martha Henry were performing there. She attended the MTC drama school when she was in grade 5. She graduated with an Arts degree from Queen's University in 1977, and from the National Theatre School of Canada (Acting) in 1979, mentored by Douglas Rain.
Nancy Palk is a founding member and resident artist of Soulpepper Theatre Company. For the Company, she has acted in a wide range of plays and roles, many of which are exceptional and challenging mothers. These include: Angels in America Parts I and II (2014); The Crucible (2014); A Tender Thing (2014, with her husband Joseph Ziegler); Rosencrantz and Guildenstern Are Dead (2013, as Gertrude); Long Day's Journey Into Night (2012, with Ziegler) ; You Can't Take it With You (2012); The Glass Menagerie (2011, as Amanda); Ghosts (2011, as Mrs. Alving); Death of a Salesman (2010, with Ziegler); Waiting for the Parade by John Murrell (2010); Who's Afraid of Virginia Woolf? (2009, as Martha); Blithe Spirit (2007, as Madame Arcati); Mary Stuart (2007, as Elizabeth); Our Town (2006); King Lear (2006, as Goneril); Hamlet (2006, as Gertrude); Phèdre (2003, in the title role ; The Winter's Tale (2002, as Paulina); The Maids (2002); Platonov (2000, as Anna Petrovna); Don Carlos (1998).
For Soulpepper she has also directed The Gigli Concert (2014), True West (2013), White Biting Dog by Judith Thompson (2011); and adapted/directed The Chimes by Charles Dickens for a staged reading at The Word Festival.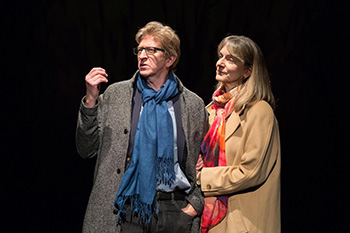 Nancy Palk and
RH Thomson
in
You Will Remember Me
, Tarragon Theatre, 2016. Photo by Cylla von Tiedemann.
She has performed at Tarragon Theatre (You Will Remember Me by François Archambault, 2016); Perfect Pie and I Am Yours by Judith Thompson, among others. Other Canadian venues include: Canadian Stage, Shaw Festival, Stratford Festival, Theatre Calgary, Citadel Theatre, and Manitoba Theatre Centre.
Nancy Palk has also appeared on television and in the films The Lois Wilson Story, H2O, Way of Duty.
She has taught at Tarragon Theatre, Humber College, National Theatre School of Canada, and Soulpepper Academy.
She and her husband, Joseph Ziegler, have three sons, and live in Toronto.
Profile by Anne Nothof, Athabasca University
Last updated 2021-07-16