Purtell, Kimberly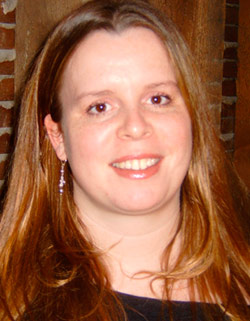 Kimberly Purtell
Toronto-based lighting designer for theatre, opera, and dance. Her designs have been critically acclaimed both on the national and international stage, having been seen across Canada, the United States, the United Kingdom, the Netherlands, Prague, China, Taiwan, Hong Kong and Russia.
Kimberly Purtell graduated from the University of Toronto in 1998 with a BA in drama. She was a directing student under Robin Phillips in the first year of the Soulpepper Theatre Company Training Program. Her career as a professional lighting designer began in 1999 with Theatre Smith-Gilmour's Chekhov's Shorts.
Her many design credits include: The Drowsy Chaperone (Manitoba Theatre Centre and Theatre Calgary); Stuff Happens (Mirvish/Studio 18); Rock 'n' Roll (Canadian Stage/Citadel Theatre); It's a Wonderful Life, Palace of the End, A Number (Canadian Stage); The Blonde, The Brunette and the Vengeful Redhead, Waiting for Godot(Stratford Festival); Parade (Studio 180 & Acting Up Stage); The Marriage of Figaro (Opera Hamilton); Blasted (Buddies in Bad Times); Tono (Luminato / Beijing Olympics / Vancouver Cultural Olympiad); This Is What Happens Next (Necessary Angel); The Overwhelming, Blackbird (Studio 180); Glengarry Glen Ross, Faith Healer (Soulpepper Theatre Company); Ines, Beauty Dissolves in a Brief Hour, Svadba – Wedding (Queen of Puddings Music Theatre); Opera To Go 2009 & 2010 (Tapestry New Opera); Stitch (World Stage / Urbanvessel); 60 Minutes in 60 Minutes, Bloodletting (Dancemakers); Communion, If We Were Birds, How It Works, The Fall, Sextet (Tarragon Theatre); The List, That Face, Crave, Wild Dogs, Age of Arousal, The Penelopiad (Nightwood Theatre).
Purtell has a particular proclivity for the works of Daniel MacIvor, having designed lighting for In On It, Cul-de-sac, A Beautiful View, and House when she was resident lighting designer at da da kamera.
She has also given master classes in lighting for directors at Nightwood Theatre.
She has received eleven Dora Mavor Moore Award nominations, winning three times, and was a recipient of the Pauline McGibbon Award in 2005. The jurors and the nominator noted that "Kim is able to help define time and place with light – which, in turn, is essential to the storytelling"; and that "she is able to achieve a perfect balance between her style and that of the company she is working for."
Last updated 2021-08-23