Robinson, Mansel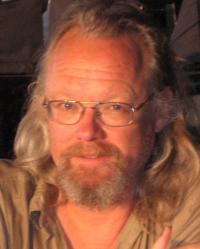 Mansel Robinson
Playwright and fiction writer Mansel Robinson was born in Chapleau, Northern Ontario May 9, 1955. He has a BA in English from the University of Western Ontario and an MA in English from Concordia University, Montreal. After a long tenure in Saskatoon Saskatchewan, he returned to Chapleau.
His plays have been produced in Ottawa, Montreal, Kitchener, Edmonton, Regina, Saskatoon and Calgary. They include Collateral Damage (Theatre Network 1994) in which a young francophone and anglophone couple imprisoned in a Central American country attempt to learn from a Spanish-speaking prisoner the identity of their jailers and the reason for their imprisonment. In Colonial Tongues (25th Street Theatre 1993), a young man returns to his home town in Northern Ontario to find it a ghost town. Downsizing Democracy (Northern Light Theatre 1998) shows how capitalism is war waged by civil means. The Heart As It Lived (Alberta Theatre Projects 1998) is a memory play about two sisters with different political loyalties, set in 1996 in Regina and in 1935 during the "On to Ottawa Trek". Street Wheat (Dancing Sky Theatre, Meacham, SK 2001) is a musical about the life and death of a family farm. Ghost Trains (Winnipeg Fringe Festival 2002) is a long poem set to music about an outlaw son and a dying father. Spitting Slag (Dancing Sky Theatre 1998) portrays a father's search for revenge after the death of his son. Scorched Ice, about a young girl growing up under the threat of nuclear war, premiered at the Last Exit Theatre, Saskatoon in 2005 (directed by Ben Henderson). Picking up Chekhov premiered at the playRites Festival (Alberta Theatre Projects) in 2006 (directed by DD Kugler). It portrays the relationships established between a daughter, her father, and a hitchhiker named Chekhov from the perspective of the mother/wife who hears about their journey from an investigator and a series of witnesses.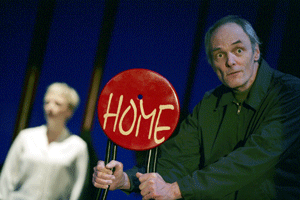 Kate Henning and Tim Koetting as Witness and Chekhov in Picking up Chekhov by Mansel Robinson
Photo by Brian Harder
Muskeg & Money was produced by North Road Theatre Company in Sudbury in 2013 (dir. Bill Lane. A middle-aged woman from the city whose marriage has fallen apart looks for something she left behind in her hometown in northern Saskatchewan, and drags her teenage daughter back with her. Against the backdrop of the disastrous closure of the town's mill, the daughter befriends a woman who deals in pot.
Three of Robinson's plays have been translated into French by Jean-Marc Dalpé: Ghost Trains, Spitting Slag, and Two Rooms (Persephone Theatre 2011), about the unlikely relationship of a white cop and his wife, a Muslim doctor suspected of being a terrorist. Titled II (deux), the latter was produced by Sudbury's Théâtre du Nouvel-Ontario and in Ottawa by Théâtre de la Vieille 17 in 2013.
According to director Philip Adams, "Mansel's plays are like the very land itself, which is deceptively flat: subtle and gentle until they slam you hard with the truth. Sort of like facing down the bitter north winds of February while crossing the South Saskatchewan" (Canadian Theatre Review 154 (Spring 2013).
Eight of Robinson's plays have been published – by Blizzard, Coteau, Playwrights Canada, Scirocco, and Thistledown. A book of short fiction and poetry, Slag, was published in 1997 by Thistledown Press.
Mansel Robinson is a winner of the City of Regina Award, Geist Magazine's Award for Distance Writing and is a two-time winner of Saskatchewan's John V. Hicks Award. He was shortlisted for the prestigious 2011 Siminovitch Prize in Theatre for playwriting. He was Writer-in-Residence at the Berton House in Dawson City Yukon in 1999, in the Drama Department of the University of Saskatchewan in 2000, at the University of Windsor for 2003/04, and the Regina Public Library in 2005/06.
Profile by Anne Nothof, Athabasca University
Last updated 2021-09-13