Kugler, DD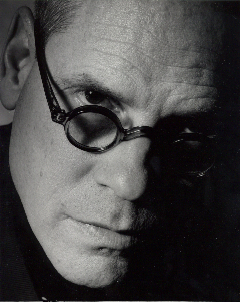 DD Kugler
Freelance director/dramaturg and, since January 1998, an Associate Professor in the Theatre Area of School for the Contemporary Arts, at Simon Fraser University in Vancouver, British Columbia, where he teaches directing, dramaturgy, playmaking, and his version of theatre history.
At SFU, he has directed Howard Barker's Seven Lears and The Possibilities, Charles L. Mee's Big Love, Michael Hollingsworth's History of the Village of the Small Huts: Laurier, and Gertrude Stein's Doctor Faustus Lights the Lights.
Since arriving in Vancouver, Kugler has been the dramaturg on the premieres of Lucia Frangione's Espresso (Pacific Theatre), Linz Kenyon's Cowboy King and The I.O.U Land (Caravan Theatre), and four theatre/dance works: Spektator, Cyclops, Reptile-Diva, and [storm] (Battery Opera). He was also the director/dramaturg of the premieres of Mansel Robinson's Picking Up Chekhov (Alberta Theatre Projects), and Kathleen Oliver's Carols' Christmas (Arts Club).
During five seasons (1993-98) as Artistic Director of Edmonton's Northern Light Theatre, Kugler primarily developed and directed Canadian writers: the premieres of Padma Viswanathan's House of Sacred Cows, Tom Cone's True Mummy, Vern Thiessen's Blowfish, Connie Gault's Otherwise Bob, and Gordon Pengilly's Metastasis: Chain of Ruin. He also directed the second productions of Eugene Stickland's Some Assembly Required, and Colleen Wagner's The Monument – the 1996 Governor General's Award Winner in Drama.
Kugler served eight seasons (1985-93) as Production Dramaturg with Toronto's Necessary Angel Theatre on productions of Jason Sherman's Two in the Back, Three in the Head, Colleen Wagner's The Monument, David Young's Glenn, John Krizanc's The Half of It, Michael Springate's Dog and Crow, and two productions of Howard Barker texts: The Europeans and The Castle. During his tenure at Necessary Angel, Kugler also adapted Marc Diamond's Property and, in collaboration with Artistic Director Richard Rose, he co-authored Newhouse, as well as the adaptations of Michael Ondaatje's Coming Through Slaughter, and Timothy Findley's Not Wanted on the Voyage
.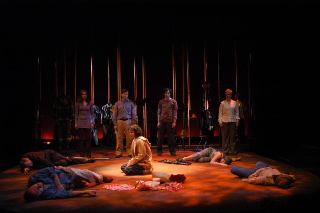 Mansel Robinson's
Picking up Chekhov
(playRites, 2006).
Kneeling centre: Natascha Girgis as Mona Sikorski.
l-r, floor: Tim Koetting (Chekhov), Trevor Leigh (Sikorski), Caitlynne Medrek (the kid), Hilary Somerville (Stevie Sikorski).
l-r, standing:
Daniela Vlaskalic
(friend 2 & others), Duval Lang (buddy 1 & others), David Beazely (buddy 2 & others), Kate Hennig (friend 1 & others).
photo credit: Scott Reid
Kugler's freelance career includes work as director/dramaturg at Arts Club Theatre (Vancouver), Alberta Theatre Projects (Calgary), Battery Opera (Vancouver), Canadian Opera Company (Toronto), Caravan Farm Theatre (Armstrong, BC), Globe Theatre (Regina), Magnus Theatre (Thunder Bay), Mulgrave Road Theatre (Nova Scotia), Nakai Theatre Whitehorse), National Arts Centre (Ottawa), Ottawa Shakespeare Festival, Pacific Theatre (Vancouver), Playwrights Theatre Centre (Vancouver), Playwrights' Workshop Montreal, Saskatchewan Playwrights' Centre, Stratford Festival, The Theatre Centre (Toronto), Touchstone Theatre (Vancouver), and 25th Street Theatre (Saskatoon).
A long-time member of Literary Managers and Dramaturgs of the Americas, Kugler and served a two-year term as LMDA's first Canadian President (2000-2002).
Last updated 2020-07-17