Sealy-Smith, Alison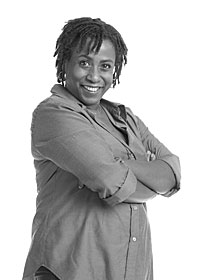 Alison Sealy-Smith
Emotionally compelling actor and director, born in the Barbados in 1959. Alison Sealy-Smith studied psychology at Mount Allison University, and has been active in Canadian theatre for over thirty-five years.
In 1981, she joined the Pelican Players, Canada's first multicultural community theatre. She returned to the Barbados in 1982 with her daughter, and acted in plays by Earl Warner. Without a formal acting education, she learned from directors and actors. Following her return to Canada 1985, she performed with the Pelican Players in the Edinburgh Fringe Festival and in other theatre festivals in England and Holland. During the 1980s, she worked with community theatres such as Ground Zero Productions, Theatre Outreach, Theatre Fountainhead, Theatre in Exile, and the Imani Theatre Ensemble.
In 1991, Alison Sealy-Smith received her first Dora Mavor Moore Award nomination for her performance in the Canadian Stage production of Tartuffe. She was also nominated for her role in Nourbese Philips' Coups and Calypsoes. From 1992 to 1994, she performed at the Stratford Festival: as Rosaline in Love's Labours Lost, and as Olivia in Twelfth Night. In 1997, she won a Dora for Outstanding Performance in Djanet Sears' Harlem Duet; and again in 2009 for her performance in A Raisin in the Sun (Soulpepper Theatre Company).
Of her role in A Raisin in the Son Robert Crew wrote: "Alison Sealy-Smith is an outstanding Lena, with equal dashes of loving matriarch and cheek-smacking tyrant. It's a dazzling performance, overflowing with great humour and great humanity" (The Star 2 Nov 2010).
Other theatre credits include: Goodnight Desdemona (Good Morning Juliet) for Canadian Stage (2001); the role of Rainey in Djanet Sears' The Adventures of a Black Girl in Search of God (2002); Peter Quince in A Midsummer Night's Dream (2003); The Polished Hoe (Obsidian Theatre Company at Harbourfront 2007); Cast Iron by Lisa Codrington (Nightwood/Obsidian 2005).
She has also worked extensively on CBC TV, including roles in Street Legal for three seasons, and This is Wonderland; and in American film.
Alison Sealy-Smith has directed touring shows for Company of Sirens, Nightwood Theatre, Carousel Players, and Young People's Theatre. She directed Harlem Duet at the Neptune Theatre; Having Our Say at the Saidye Bronfman Centre; Afrika Solo for Black Theatre Workshop; The Prince of Barotac for the National Theatre School of Canada; and The Piano Lesson for Obsidian Theatre.
She is a founding member and first Artistic Director of Obsidian Theatre Company. She is fully committed to the development of plays in Canada and in the Barbados.
Her many awards include: a Harold Award, a Salute to the City Award, a Harry Jerome Award, and a George Luscombe Award for her contribution to the arts in Toronto.
She has two daughters, and is currently based in Toronto.
Profile by Anne Nothof, Athabasca University
Last updated 2017-09-06