Shields, Erin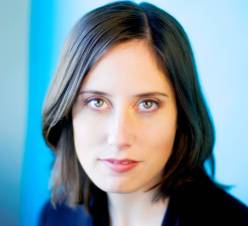 Erin Shields
Feminist playwright and actor, who trained at Rose Bruford College of Speech and Drama in London, England, and graduated from the University of Toronto with an Honours BA in English Literature. She is currently based in Toronto.
Erin Shields was co-Artistic Director (with Andrea Donaldson) of Groundwater Productions through which she created, developed and produced much of her early work including If We Were Birds (SummerWorks 2008). In 2010, If We Were Birds was produced at Tarragon Theatre (dir. Alan Dilworth), and won a Governor Generalís Award in 2011. It is a version of the Procne and Philomena myth from Ovidís Metamorphosis, focusing on violence against women and the atrocities perpetuated on women in warfare. The play has been translated into German, French, Italian and Albanian.
Erin Shields' other works include: The Epic of Gilgamesh (Groundwater/SummerWorks), the Dora Mavor Moore Award-nominated The Unfortunate Misadventures of Masha Galinski (Groundwater/Canadian Tour), Dance of the Red Skirts (Theatre Columbus).
In 2011, Shields acted with Maev Beaty as two artists' models in their co-written play Montparnasse (Groundwater in association with Theatre Passe Muraille). Remounted in 2012, it won the Alberta Theatre Projects Enbridge Emerging playRites Award. Montparnasse examines aesthetic and personal issues of nudity and the position of women in the art world of Paris in the 1920s.
In August 2012, Suitcase in Point company from St. Catharine's premiered Barrel Crank at SummerWorks, which tells the story of Annie Edson Taylor, who at the age of 63 became the first person to survive in a barrel ride over Niagara Falls, only to find herself commercially exploited. (This story has also been told in an ironically humorous novel by Suzette Mayr, entitled The Widows, NeWest Press, 1998).
Soliciting Temptation premiered at Tarragon Theatre in 2014. During a sexual encounter in a hotel room between a white Western man and a young woman, reality becomes fantasy in a battle of morality, economics, and desire, as the woman is revealed as a Canadian university student bent on exposing child-sex tourists.
Shields premiered Beautiful Man at SummerWorks in 2015. She describes the play as ďa visceral interrogation of sex, gender and violence against women in popular film and television (both on and off screen)Ē. Beautiful Man performs a reversal of gender conventions: three women talk about a movie theyíve seen recently in which the cop is a woman who is hunting for a serial killer who is also a woman and who is killing beautiful young men.
Her faithful adaptation of Henrik Ibsen's The Lady from the Sea was produced at the Shaw Festival in 2015 (dir. Meg Roe), artfully balancing the themes of freedom and responsibility.
The Millennial Malcontent (Tarragon 2017, dir. Peter Hinton) is a comedy of twentieth-century Canadian manners, based on The Provoked Wife, written in 1697 by English Restoration dramatist John Vanbrugh. Again, Shields reverses gender stereotypes: the wife is the debauched roue, and her husband the betrayed cuckold, who is urged by a friend to seek sexual revenge.
In 2018, her irreverent interpretation of Milton's Paradise Lost opened at Stratford Festival with Lucy Peacock as Satan, and directed by Jackie Maxwell. It explores the nature of morality in the modern world. It was nominated for a Governor Generalís Award.
Her adaptation of the German musical Spatz und Engel by Daniel Grobe Boymann and Thomas Kahry as Piaf/Dietrich was produced to critical acclaim at the CAA Theatre (formerly the Panasonic Theatre) in Toronto in 2019. She adapted Jane Eyre for the 2020/21 season at the Citadel Theatre; the premiere was delayed by the Covid-19 pandemic to March 2022. Her prequel to King Lear, entitled Queen Goneril premiered at Soulpepper Theatre Company in September 2022.
Erin Shields is married to Gideon Arthurs, the Executive Director of Soulpepper Theatre Company and the Young Centre for the Performing Arts. From 2014-2022, he was the CEO of the National Theatre School of Canada. They have two daughters.
Profile by Anne Nothof, Athabasca University
Last updated 2023-02-02