Cameron, Ken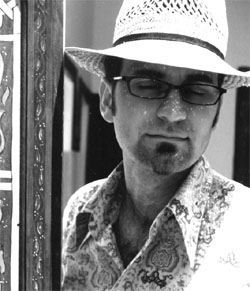 Ken Cameron. Photo Rita Bozi (with permission).
Playwright and director Ken Cameron (b. October 16, 1969) graduated from McGill University with an Honours BA in English, and from the University of Calgary with a Masters of Fine Arts in Directing.
As a playwright he has collaborated on a variety of theatre events. His play, Bloody Knuckles premiered at Players' Theatre, Montreal in 1992 and received a second production at the Realite Jeunesse Festival, Montreal 1992. Mrs. Talleyhouse premiered at the "Write on the Edge Festival" produced by Playwrights Workshop Montreal 1992, and received a second production at The Garry Theatre, Calgary, 1994. In Mrs. Talleyhouse a young boy tries to come to terms with the murder of his sister and with his own incarceration in a Juvenile Detention Centre. The Climate: a Province in deKlein is a political satire detailing the struggle to turn an ordinary guy into a politician, based on The Klein Revolution by Edmonton writer, Mark Lisac. It premiered in January 1997 at the Art Ranch at One Yellow Rabbit's High Performance Rodeo. Stop Thinking!, (Art Ranch at One Yellow Rabbit's High Performance Rodeo 1999) takes a comic look at the experimental theatre of the 1960s: a demented director locks a troupe of vulnerable actors in a studio for six months to endlessly rehearse the same scenes from The Scottish Play. For Calgary's Lunchbox Theatre he wrote Alien Love Connection in 1997.
Ken's play My One and Only premiered at Alberta Theatre Projects' Enbridge playRites Festival '04, and was remounted by Workshop West Theatre in 2005. While in development the play was featured at the National Arts Centre's "On The Verge" reading series in 2003. The play is a fictional account of the filming in Banff and Jasper of "The River of No Return", starring Marilyn Monroe and Robert Mitchum, and focuses on the relationship between Marilyn and a 15-year-old local boy.
The autobiographical monologue, My Morocco premiered in Ontario at the Oh Solo Mia Festival in 2006, and toured across the country in the Fringe theatre circuit with Ken playing himself. It was then presented in Calgary by Ground Zero Theatre in association with One Yellow Rabbit. It enacts the response of the protagonist to the death of his estranged sister in Canada, while he is visiting Morocco with his girlfriend.
Harvest was commissioned as a one-act play for Lunchbox Theatre (2007) and won an Enbridge playRites Award. It was expanded into a two-act play that premiered at the Blyth Festival in 2008 (dir. Ian Prinsloo). When a farming couple decides to retire and move to the city, they rent their house to a young man who engages in another kind of growing operation. This thoughtful comedy considers a way of life that is rapidly disappearing, with a resulting disorientation of values, but also a resilience and sense of humour in the face of change. It has played in theatres across Canada, including Shadow Theatre, and New West Theatre.
My Morocco, Harvest and My One and Only are published in Harvest and Other Plays, NeWest Press, 2010.
The musical Dear Johnny Deere was commissioned by the Blyth Festival for production in 2012 (dir. Eric Coates). It was remounted at Blyth in 2013, and produced at the Lighthouse Theatre in Port Dover, the Charlottetown Festival, and Theatre Calgary (2015), where it won two Betty Mitchell Awards for Outstanding Production of a Musical and for Musical Director (David Archibald). Based on the songs of Fred Eaglesmith, it enacts the lyrics in terms of the relationship of a farmer and his wife, struggling to pay the bills, keep their land, grow a crop, and save their marriage. It is a heartwarming, engaging story, expertly told and delivered by the actors/musicians. The text is published by NeWest Press.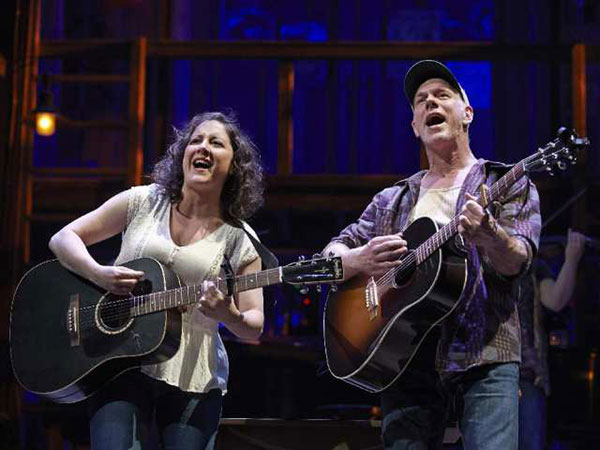 Rebecca Auerbach and J.D. Nicholsen in Dear Johnny Deere, Theatre Calgary, 2015. Photo by Trudie Lee.
Ken's "play for iPod and library" opened in Kitchener Ontario as part of the IMPACT 13 Festival, September 25-28. How iRan is based on interviews with over twenty new Canadians and one political prisoner. Individual participants came to the Kitchener Public Library and chose one of three iPods, then walked around the library listening to the story and looking at the artwork made by Iranian members of the community. Each iPod was set to shuffle, making over one million story combinations. At various points throughout the day, participants convened for ACT TWO, when they compared notes and pieced together the story of these characters.
In 2013, Ken co-founded Productive Obsession with wife and co-Artistic Conspirator Rita Bozi as an independent inter-arts performance company. Its work, The Damage is Done: A True Story was developed at the Cultch in Vancouver and the Banff Centre for the Arts. It combines theatre, video, essay and modern dance into one event, and shows how Rita Bozi and Hungarian-Canadian author, doctor, thinker and speaker Gabor Maté explore the history and family dynamics that resulted in their experiences of depression, addiction and even ideas of suicide, from Gabor's infancy when the Nazi's invaded Budapest to Rita's family's participation in the 1956 Hungarian Revolution.
Ken Cameron's directing credits include the musical comedy, I Think I'm a Wolf by the Berserkergang Collective in 1999. He has worked with One Yellow Rabbit for five years as assistant director on all of their new productions and tours to Glasgow, Edinburgh, Toronto, Philadelphia and Vancouver. He was the director and producer of Doppelganger, a one-act play written through an e-mail connection by eight playwrights across the country. The concept was by Ken Cameron, based on a script by Simon Heath (with contributions from Bonnie Bowman, Rita Bozi, Ron Chambers, Doug Curtis, Elyne Quan and Eugene Stickland. It premiered in September 2002 at the Art Ranch at the New Dance Theatre in Calgary. Doppelganger examines the emotional consequences of 9/11. A man falls to his death from a thirty story building; as he falls, a variety of witnesses realize that he looks just like them.
From 2001-07 Ken Cameron was Executive Director of the Alberta Playwrights' Network, a provincial organization that develops plays and supports playwrights around Alberta. From 2007 to 2010 he was Artistic Director of Magnetic North Theatre Festival, held in alternate years in Ottawa, and in different Canadian cities every other year.
Profile by Anne Nothof, Athabasca University.
Last updated 2021-02-16