Cariou, Len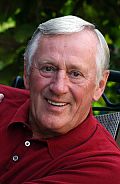 Len Cariou
Actor/singer/director, with an illustrious career in theatre, film, and television that has spanned 60 years across Canada, on Broadway, and in London's West End. Len Cariou created the title character in Stephen Sondheim's Sweeney Todd, The Demon Barber of Fleet Street on Broadway in 1979, for which he won a Tony Award, and was a founding member of the Manitoba Theatre Centre.
He was born in St. Boniface, Manitoba in 1939, and grew up in Winnipeg. He studied singing as a child, and by grade 10, he was directing/starring in school plays at Miles MacDonnell Collegiate, where he made his theatrical debut playing Ralph Rackstraw in HMS Pinafore.
His first professional performance was on Winnipeg's Rainbow Stage in Damn Yankees. He then played multiple roles at Manitoba Theatre Centre/MTC, including Eilif in Mother Courage with Zoe Caldwell (dir. John Hirsch); and Nick in Who's Afraid of Virginia Woolf? (with Kate Reid).
From 1962-65, he played in a variety of supporting roles in the company at the Stratford Festival. In the late 1960s and 1970s, he performed in Shakespeare's works and others at the American Shakespeare Festival in the US with Tyrone Guthrie (title roles in Sergeant Musgrave's Dance 1968, and Henry V, 1969); and the Guthrie Theatre under the aegis of Michael Langham (title roles in Oedipus the King 1973, and King Lear, 1974).
He returned to the MTC in 1975 for one year as Artistic Director, casting local actors in major roles. He also played lead roles in Of Mice and Men, Cyrano de Bergerac and Equus. He directed Death of a Salesman at Citadel Theatre, 1984, and played King Lear there in the 85/86 season.
In the 1980s he returned to the Stratford Festival at the invitation of director John Hirsch to play lead roles in Coriolanus (directed by Brian Bedford, 1981), in Taming of the Shrew (1981, opposite Sharry Flett), Brutus in Julius Caesar, and Prospero in The Tempest (1984).
Cariou returned to MTC in 2005 to play Sir in The Dresser, and in 2007 to play the Stage Manager in Our Town. In 2007, he played Joe Keller in All My Sons at the Geffen Theatre in Los Angeles, a role which he reprised in 2009 at the Gate Theatre, Dublin, the longest-running play in the theatre's history. He played Richard Nixon in Frost Nixon at the Vancouver Playhouse in 2008. In 2016, he created the solo theatre work, Broadway and the Bard at New York City's Lion Theatre.
In April 2021, when theatres across Canada and the world were closed by the Covid-19 pandemic, he performed the role of Captain Shotover in Shaw's Heartbreak House for a zoom production by Barrie Ontario's Talk is Free Theatre (dir. Richard Ouzounian).
Len Cariou has also had an extensive television and film career, beginning his screen career in 1977 with a Genie Award winning performance in One Man. He has played Henry "Pop" Reagan in the television series, Blue Bloods for ten seasons as of 2020. He has narrated documentaries such as The Jonestown Flood, and the PBS film, Tick Hall.
His performances are marked by a magnificent voice and a huge stage presence together with a remarkable attention to character detail. He has long been one of the most sincere and eloquent ambassadors of Canadian theatre and the arts.
Len Cariou is a Member of the Order of Manitoba, the Broadway Theatre Hall of Fame, and an Officer of the Order of Canada. He has honorary degrees from the Universities of Manitoba and Winnipeg. He lives in New Jersey with his wife, Heather Summerhayes Cariou.
Profile by Gaetan Charlebois and Anne Nothof. Additional information by Heather Summerhayes Cariou.
Last updated 2021-03-31