Chapman, Vernon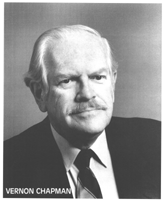 Actor and director Vernon Chapman was born in Hamilton, Ontario in 1923, and died on February 12, 2008. He began acting at the age of twelve in Shakespeare's King John, and in high school and amateur societies in Toronto. He was president of the Victoria College Dramatic Club, where he acted in The Importance of Being Earnest under the direction of Dora Mavor Moore. After his graduation from the University of Toronto in 1946, he was one of a group of four actors who helped Dora Mavor Moore found the New Play Society in October 1946. After a year in England acting with the Amersham Repertory Theatre, he returned to Canada in 1948, and rejoined the New Play Society, where he was Business Manager until 1953. During the summer, he directed for the International Players in Kingston, and for six summers he acted and directed at the Garden Centre Theatre, owned and run by Robert Herrman from 1956-1966.
In 1968/69 Vernon Chapman assisted Walter Learning in establishing Theatre New Brunswick in Fredericton, where he performed and directed. For four years, he was the Artistic Director/Administrator of the Gryphon Theatre in Barrie, Ontario.
Vernon Chapman directed over 249 professional stage productions, and performed at theatres across Canada: three times at Bastion Theatre, twice at the Belfry Theatre, five times at the Citadel Theatre, once at Theatre Calgary, once at Persephone Theatre, three times at the Manitoba Theatre Centre, once at Magnus Theatre, and many times at the Sudbury Theatre Centre, and the Huron Country Playhouse. He created the role of Professor Moriarty in Who Killed Cardinal Tosca for TNB, and toured in it through the Maritimes, Newfoundland, and Ontario. He has sung and danced in The Heart's a Wonder, The Fantasticks, Sunshine Town, The Wizard of Oz, Annie, My Fair Lady, and as the Earl of Dorincourt in Fauntleroy at the Charlottetown Festival.
He acted on CBC radio, and on CBC television the second week of its advent in 1952. On television he was a regular on the Wayne and Shuster Show from 1957 to 1966. He played Richard Cartwright in The National Dream, George Pearkes, the Minister of Defence in Straight Arrow, and Admiral Bascawan for the Ontario Educational Communications Authority (now TV Ontario). He also acted in films for independent producers including The Luck of Ginger Coffey, Billy Madison, and A Day In A Life. From 1996 to 1999 he was a regular on the children's series, My Hometown.
He served on the Board of the Toronto branch of ACTRA for fourteen years, and on the National Board for thirteen. He also served on the Canadian Advisory Committee of Equity and was its Chairperson for five terms, writing its first constitution when it separated from American Equity. He received Equity's Larry McCance Award and ACTRA's Bernard Cowan Award. In 1998, Canadian Equity commissioned him to write its history, a project which took five years. He is listed as an actor or director in all the Canada On Stage volumes (from 1976 to 1988), and his work on the history of Canadian professional theatre production since WWII, entitled Who's in the Goose Tonight was published by ECW Press in 2001.
Last updated 2011-03-05