Chatterton, Anna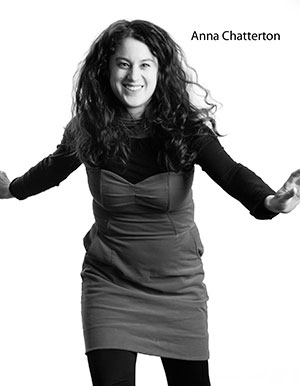 Anna Chatterton is a playwright, librettist and performer, based in Hamilton Ontario. She has an MFA in Creative Writing from the University of Guelph (2011) and a BFA in Theatre Performance from Concordia University. Her thesis project for the MFA was the one-act play Quiver about the fraught relationship of a mother and two daughters (thesis supervisor, Judith Thompson). Quiver is published by Playwrights Canada Press (2018). Chatterton performed all three characters in Quiver at Theatre Aquarius as part of its TA2 Studio series; and for Nightwood Theatre at Buddies in Bad Times in 2018. She is in the Theatre Aquarius Playwright's Unit and in May 2016, she performed in the interdisciplinary show Yellow Wallpaper at Aquarius.
She has been a playwright-in-residence at Tarragon Theatre since 2011, and was the OAC 2015-2016 Playwright-in-Residence at Nightwood Theatre. She has also been invited to be a writer-in-residence at the National Theatre School of Canada.
Her play Within the Glass premiered at Tarragon Theatre in January 2016 (dir. Andrea Donaldson). The title is a literal translation of the Latin "in vitro", and the play examines the dilemma of two couples when a fertilized egg is implanted in the wrong woman. The wealthy couple who want desperately to have the child invite the financially struggling surrogate mother and her husband for dinner, and attempt to persuade them to give it to them. The play is more than a comedy of manners: it examines the meaning of "motherhood" from an ethical and biological perspective.
Anna Chatterton writes and performs with the acclaimed feminist theatre collective Independent Aunties (with Evalyn Parry and Karin Randoja). The Aunties have created six shows together, produced by Theatre Passe Muraille (Frances, Mathilda and Tea, The Mysterious Shorts); Buddies in Bad Times (Clean Irene and Dirty Maxine—winner of Best New Play at SummerWorks, 2002); and The Theatre Centre (Breakfast—Dora Mavor Moore Award nomination). The Aunties' Gertrude and Alice was co-produced with Buddies in Bad Times Theatre in March 2016; it won a Toronto Theatre Critics Award, and was nominated for two Dora Mavor Moore Awards.
She adapted C.S. Lewis's novel, The Horse and His Boy, for the Shaw Festival's 2019 season.
Her new play, Cowgirl Up was slated for its premiere at Alberta Theatre Projects in April 2020, but was cancelled when theatres were closed because of the Covid-19 pandemic. Switched, slated for May, was cancelled by Theatre Aquarius.
As a librettist, her work has been commissioned and produced by Canadian Opera Company (Swoon), World Stage/Harbourfront Centre (Voice Box), Banff Centre for the Arts (Crush), The Theatre Centre (Stitch), Tapestry Opera (See Saw), Urbanvessel (Sweat), Voice ++ Festival, and The Sound Symposium (Province of Impossible). The remount of her opera Rocking Horse Winner, slated for April 2020, was put on hold by Toronto's Tapestry Opera because of Covid-19 closure of theatres.
Chatterton has been nominated for a Dora Mavor Moore Award for Best New Opera (Stitch). Her opera Rocking Horse Winner (with composer Gareth Williams), won the Dora Award for Outstanding New Production in 2018. She has also been nominated three times for the K.M. Hunter Award for Theatre. She had two back-to-back nominations for the Governor General's Award for Drama (Within the Glass, 2017 and Gertrude and Alice, 2018 -- co-written with Evalyn Parry).
Last updated 2020-10-28