Christenson, Jonathan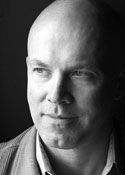 Jonathan Christenson
Playwright, composer, director, Jonathan Christenson is based in Edmonton Alberta. He was born in Saskatoon, Saskatchewan, one of four children whose father was a Lutheran minister and mother a social worker. He has a B.A. and Master of Fine Arts (Directing) at the University of Alberta (1996).
Since 1996, he has been Artistic Director of Catalyst Theatre, for which he has directed, written, composed and occasionally performed in nineteen original productions including The Invisible (Vertigo Theatre 2019), Fortune Falls (2016), Vigilante (2015), The Soul Collector (2013), Hunchback (2011), Nevermore (2008), and Frankenstein (2007). With Joey Tremblay he has created Carmen Angel (2003), The Blue Orphan (2001), The House of Pootsie Plunket (1999), Songs for Sinners (1998), The Abundance Trilogy (1997), and Elephant Wake (1996).
Elephant Wake is published in Ethnicities: Plays from the New West (NeWest Press, 1999). It is a lament for the dying French culture in the prairies, subsumed by an Anglophone hegemony. Jean Claude (played by Joey Tremblay) is the last member of a large Catholic family to remain in a large ancestral home. But he insists on survival, constructing for himself a zoo full of creatures in papier-mâché which can be seen for miles across the prairies. Even in the ditch, he can see the stars. As Christenson points out in an interview with Liz Nicholls on the occasion of its remounting by Catalyst in 2014: the play is "a deeply touching story of what it's like to live in a world where the things you value the most aren't valued: the sense of loss" (Edmonton Journal 13 Nov 14: C2).
In an attempt to "crack what it means to be a Western Canadian" to find or determine a local aesthetic, Christenson's settings are often in a mythical Alberta, which he finds exotic, full of magic and intrigue. For example The House of Pootsie Plunket sets the story of Electra in a prairie environment to explore family roots in mythological terms. For his dynamic, innovative interpretations of classic texts such as Frankenstein, he provides lyrics and music, and incorporates dance movements. He typically has worked collaboratively with scenographer Bretta Gerecke in the creation and production of his works.
His productions have been seen at more than fifty different theatres across England, Scotland, Wales, Australia, the United States and Canada, including the Barbican in London, the Traverse in Edinburgh, the Playhouse in Liverpool, the Tron in Glasgow, the New Victory in New York, the Winter Garden and Bluma Appel Theatres in Toronto, Theatre Calgary's Max Bell, Citadel Theatre's Shoctor Theatre in Edmonton and the Vancouver Playhouse. His work has also appeared at the London International Festival of Theatre (LIFT), Le Carrefour international du théâtre (Quebec City), PuSh International Performance Arts Festival (Vancouver), Luminato (Toronto), and Magnetic North Theatre Festival.
He brought more than fifty Edmonton-based artists together for the interdisciplinary performance events JAM, Twelve and Fusion: Let There Be Light (for which he received a special Sterling Award for Outstanding Theatrical Event); he co-created two installation works: Paper Flight Cocoon Storm and Love + Love (with Annie Dugan and John Ullyatt). He co-founded and curated Catalyst's international performance series Blind Dates that presented the work of cutting edge theatre companies from Russia, Ireland, England and South Africa to Edmonton audiences.
His work has been recognized with numerous Sterling Awards, a Betty Mitchell Award, two Fringe First Awards (Edinburgh), one Herald Angel Award (Glasgow) and two City of Edmonton Awards of Excellence. In 2006 he was selected as one of Alberta's one hundred prominent theatre artists of the past one hundred years by Alberta Playwrights Network, and in 2011 was named one of Alberta's "Fifty Most Influential People" by Alberta Venture. He was nominated for a Siminovitch Prize in Theatre in 2016.
He has taught in the M.F.A., B.F.A. and B.A. Programs at the University of Alberta's Department of Drama.
Profile by Anne Nothof, Athabasca University
Last updated 2020-11-02