Corcoran, Ashlie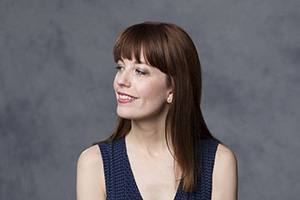 Ashlie Corcoran
Theatre and opera director, and artistic director from White Rock, British Columbia, Ashlie Corcoran has directed a wide variety of productions across Canada and internationally. Corcoran's parents encouraged her creative side with lessons in tap, ballet, piano and trumpet, and she participated in jazz band and choir in high school. At the age of fourteen, her passion for the theatre was sparked by a production of Les Misérables at the Queen Elizabeth Theatre in Vancouver. She graduated with a Bachelor of Arts (Honours) Degree in Drama from Queen's University, Kingston, Ontario in 2001; and received a Master's Degree in Directing, awarded with distinction, from Goldsmiths College at the University of London in 2004, funded through a British Foreign and Commonwealth Office Chevening Scholarship.
Corcoran's first professional theatre job was at the Tarragon Theatre as administration assistant and apprentice stage manager in 2003. In 2010-11, she was the Urjo Kareda Emerging Artist. For the Tarragon, she has directed The Ugly One by German playwright Marius Von Mayenburg, and Mustard by Kat Sandler.
She is the co-founder and Artistic Producer of Theatre Smash (2005), which produces Canadian premieres of international contemporary work and develops new Canadian plays. For Theatre Smash she has directed seven productions, including the critically acclaimed The Ugly One (Dora Mavor Moore Award for Outstanding Production and a nomination for Outstanding Direction); Graeme Gillis's A Boy Called Newfoundland; Phillip Löhle's Das Ding (The Thing (produced in association with Canadian Stage). Corcoran also produced Theatre Smash's second main stage production Norway.Today.
From 2012-2017, Corcoran was the Artistic Director of Thousand Islands Playhouse, where she directed sixteen productions, including Dear Johnny Deere by Ken Cameron, Bed and Breakfast by Mark Crawford, Waiting for the Parade by John Murrell, Salt-Water Moon by David French.
As a free-lance director, she has directed at Buddies in Bad Times (The Gay Heritage Project); Western Canada Theatre Company ( The 25th Annual Putnam County Spelling Bee, Waiting for the Parade, Driving Miss Daisy, Blithe Spirit, and Don't Dress for Dinner); Summerworks; Toronto Fringe Festival; Resurgence Theatre Company (The Secret Garden and The Jungle Book); Gateway Theatre ( A Boy Called Newfoundland, Don't Dress For Dinner); Alumnae Theatre; Shaw Festival (Me & My Girl and Seán O'Casey's Bedtime Story); Centaur Theatre (Bed & Breakfast).
In 2017, Corcoran was appointed Artistic Director of the Arts Club Theatre in Vancouver, overseeing a wide range of productions on three stages, including popular productions of Once and Sweat in co-productions with Citadel Theatre. Her vision for the company is to "be internationally renowned, driving the development of local theatrical talent and voices, while deeply engaging with its community, audience and stakeholders."
As a Canadian Opera Company Ensemble Studio intern director, Corcoran directed William Walton's The Bear and several touring productions. She later directed the Philadelphia Opera Company's production of The Magic Flute, and a COC production. She has worked at Opera North in the UK, the Städtische Bühnen in Münster and Vancouver Opera (The Barber of Seville Feb. 2020).
Her theatrical interests are broad – from large-scale opera and musical theatre, to innovative, contemporary, international theatre and performance, to developing new Canadian works. For Corcoran, theatre is collaborative, rather than hierarchical: the director is "at the centre of a wheel, working with imaginative, talented people who are passionate about what they do." The director sets the tone, tempo, and rhythm of the production, and puts safety first.
Corcoran is a member of the Lincoln Center Theater Directors Lab. She has also participated in a Goethe-Insititut / International Theatre Institute's directing residency at the Maxim Gorki Theater in Berlin.
Website: http://ashliecorcoran.com
Source: Dean Artists Management
Profile by Anne Nothof, Athabasca University
Last updated 2020-09-14