Munday, Jenny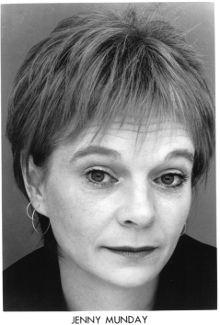 Actor, dramaturge, playwright, director, arts administrator and advocate.
Born in Toronto in December, 1953, Jenny Munday grew up and was educated in New Brunswick and Quebec, and made her home in Atlantic Canada for most of her professional life. She died in June 2021 of cancer.
As an actor, she worked both on stage and in new play development with companies across the country, including Rising Tide Theatre; the Banff Playwrights Colony at the Banff Centre for the Arts; Neptune Theatre; National Arts Centre; Shipís Company Theatre; Blyth Festival; Resource Centre for the Arts; and the Grand Theatre, London, as well as in film, television and radio.
She played roles in premiere productions of new works for the stage, including: Agnes in Marion Bridge by Daniel MacIvor, Hannah in Safe Haven by Mary Colin Chisholm, Anna in Norm Fosterís My Darling Judith, and Dianne in Don Hannah's The Cave Painter (StageLab, University of Alberta 2011). She played Emma in Wendy Lillís All Fall Down on CBC Radio and on stage at Neptune Theatre. In 2012, she played in Daniel MacIvor's Communion at the National Arts Centre.
She wrote commentaries, reviews, narratives and articles for CBC Radio and Television and for several publications, including the Canadian Theatre Review and CanPlay.
Her career was largely dedicated to the development of new works for the stage. As Artistic Director of Playwrights Atlantic Resource Centre (PARC), she worked with the organization since 1997. She was the fourth Crake Fellow in Drama at Mount Allison University from 2006 to 2008 and was the first Artist in Residence with Live Bait Theatre. She was Artistic Associate and Writer-in-Residence at Theatre New Brunswick (1993-95). A former Artistic Director of Mulgrave Road Theatre (1989-92), she was also a Co-Artistic Director of The Comedy Asylum, based in Fredericton in the early 1980s.
Her play, Relatively Harmless, was produced by Live Bait Theatre in October of 2005, was read at On The Verge in 2006 in St Johnís and was published by Playwrights Canada Press in June of 2007. Her other plays include: The Last Tasmanian, based on the novel by Herb Curtis, produced by Theatre New Brunswick (TNB) and Shipís Company Theatre; The Americans are Coming, co-written with Herb Curtis, based on his novel, produced by TNB and Shipís Company; Battle Fatigue, produced by Mulgrave Road (Co-op) Theatre and Upper Canada Playhouse; and Have You Ever Been To Bombay?, co-written with Ilkay Silk and Elizabeth Goodyear, produced by The Comedy Asylum.
Jenny Munday was awarded a Theatre Nova Scotia Merritt Special Achievement Award for outstanding contribution to Theatre in Nova Scotia in 2007. She also received the inaugural Mallory Gilbert Award from the Professional Association of Canadian Theatres/PACT and Tarragon Theatre in 2007 in recognition of sustained, inspired and creative leadership in Canadian Theatre. In 2011, she was awarded a Canadian Association for Theatre Research Honorary Membership for her outstanding contribution to Canadian theatre.
Last updated 2021-06-14