Léger, Viola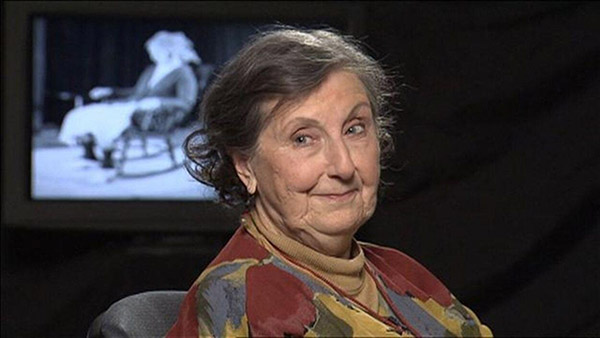 Viola Léger. Photo courtesy Radio-Canada.
Actor and teacher born in Fitchburg, Massachusetts June 29, 1930, to Acadian parents. Viola Léger returned to her Acadian roots in Moncton, New Brunswick at the age of 18 to study teaching in French. As a teacher she met Antonine Maillet, and their relationship shaped the rest of her professional life. She spent a great deal of her teaching life in extracurricular activities, notably in drama classes. At 38, Léger went to Boston University to study teaching theatre. She then studied with renowned teacher Jacques Lecoq, in Paris in 1968, and he insisted she pursue a career as a performer.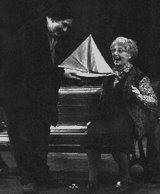 But it was in 1971 when she was approached by Maillet to perform in La Sagouine that her career in theatre began. Since then, she has performed the title role over 1400 times, in English and French, and has toured nationally and abroad with the piece.
She has also performed in other Maillet works, including Évangeline Deusse as well as performing, in English, in Albertine, en cinq temps, in Toronto. In 1998, she appeared in the Théâtre du Rideau Vert hit, Grace & Glorie and toured the piece across the country, in French and English, in 1999. She appeared in the premiere of Maillet's new play, Le Tintamare (Rideau Vert, April, 1999) and in 2002, she appeared at the Théâtre de l'Ile in Gatineau in a one-woman show, Veillée avec Viola.
She is an officer of the Order of Canada and has won a Dora Mavor Moore Award (1981, La Sagouine) and a Masque Award (2001, Grace & Glorie, shared with Linda Sorgini, her co-star) among other national and international honours. In 2001, she was appointed to the Senate, but retired four years later. In 2013, she was awarded a Governor General's Performing Arts Award for lifetime achievement.
Viola Léger's performances are marked by a gentleness of spirit and a profound complicity with the audience.
Profile by Gaetan Charlebois. Additional information provided by Alvina Ruprecht.
Last updated 2020-11-03