Lefebvre, Paul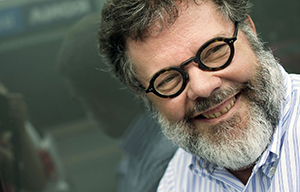 Paul Lefebvre. Photo by Annik MH De Carufel Le Devoir.
Quebec-based director, translator, and critic, born in Montreal.
Paul Lefebvre studied at the Université de Montréal and then taught contemporary Quebec drama and playwriting. He has been an arts broadcaster, and served as drama critic for the Montreal daily, Le Devoir. He has also been on the editorial board of the theatre magazine, Jeu, and was on the first executive of the Association québécoise des critiques de théâtre.
He directing credits include a dark and beautiful production of FX Kroetz's Le sang de Michi/Michi's Blood, for Ma Chère Pauline.
He was the coordinator for the experimental hall of the Nouvelle Compagnie Théâtrale / Théâtre Denise-Pelletier (Salle Fred-Barry) and became literary director there. He works as a translator as well, turning in a stunning reading of Frank Wedekind's Lulu, performed at the Théâtre du Nouveau Monde in 1996, directed by Denis Marleau and featuring Sylvie Drapeau in the title role.
Paul Levebvre co-directed (with Jack Langedijk) the French-language premiere of Rahul Varma's Counter Offence. The production, in February, 1999 at Théâtre la Licorne, was enormously successful. Also, in 1999, he directed Yvan Bienvenue's Le lit de mort at Théâtre d'Aujourd'hui.
In April, 2001, he decided to leave the Théâtre Denise-Pelletier and took the position of assistant to the artistic director, Denis Marleau, at the National Arts Centre.
Profile by Gaetan Charlebois.
Last updated 2020-04-17