Massicotte, Stephen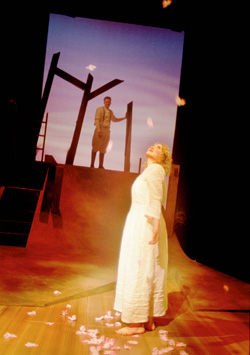 Mary's Wedding
, Alberta Theatre Projects March 2002
Sarah Smith and
Collin Doyle
Trudie Lee Photography
Playwright and actor Stephen Massicotte was born in Trenton Ontario in 1969, and grew up in Thunder Bay. He attended Cambrian College in Sudbury, where he graduated with a Diploma in Graphic Design and Advertising. He subsequently graduated with a Bachelor of Fine Arts from the University of Calgary.
His first plays were short Fringe productions, in which he acted with friends. His one-act plays include The Boy's Own Jedi Handbook, a coming-of-age story based on Massicotte's own experience, which shows the imaginative impact of the 1977 release of Star Wars on an adolescent boy and his friend. Massicotte believes that the "force" is a positive substitute for organized religions that have atrophied or become corrupt. The play was revived at the 2003 Alberta Theatre Project's playRites Festival.
Other early plays include My Life of Crime, A Farewell to Kings: A Banger Play (Ground Zero Theatre in Calgary, and Theatre Network's NeXtFest in Edmonton), and Looking After Eden.
His first full-length work was Mary's Wedding, which took three years to research and gestate and two years to rework at Alberta Theatre Projects. A "dream play" set in 1920 on the evening before Mary's wedding, it tracks back in time to her relationship with a young prairie farm lad, who leaves to fight in the war against Germany and never returns, but who remains alive and present in her imagination and memory. Mary's Wedding was enthusiastically received by Calgary audiences and reviewers, and awarded the Betty Mitchell Award for Outstanding New Play in 2002, and the Gwen Pharis Ringwood Award for outstanding new publication. Since its premiere at ATP playRites Festival in 2002, it has been produced across the country: at the National Arts Centre in Ottawa, and at least ten regional theatres, including Victoria's Belfry, Regina's Globe, Thunder Bay's Magnus Theatre, Theatre Lac-Brome in the Eastern Townships, Theatre New Brunswick, and The Eastern Front Theatre. It has been produced in Washington and San Jose, and in Perth, Scotland, and translated into French. Massicotte has also written a screenplay for Mary's Wedding. In has been adapted as an opera, which premiered in Victoria in 2011 (dir. Michael Shamata.
In May 2004 Ground Zero Theatre produced Massicotte's Pervert at the Pumphouse Theatre, Calgary - a play far removed from the romanticism and idealism of Mary's Wedding. Based on the playwright's own experiences working in a porno store during his earlier, impecunious years as an actor, this black comedy shows how two different couples respond to pornography, and how it conditions their social behaviour. A dubious philosopher in a raincoat who visits regularly provides ironic commentary on the "weirdness" of others, and the fine art of pornography.
Massicotte scripted a moving and powerful historical drama about the creation of an opera by internees of a concentration camp entitled The Emperor of Atlantis, produced by the Edmonton Opera Company in the fall of 2004.
His international reputation growing, Massicotte based himself in a flat in Notting Hill, London to research the life of T.E. Lawrence for a play commissioned by the National Arts Centre. This anti-war play, The Oxford Roof Climber's Rebellion, premiered at the Great Canadian Theatre Company in Ottawa and at the Tarragon Theatre in Toronto in the fall of 2006, and was a hit off-Broadway in 2007. It won the 2007 Canadian Author's Association Carol Bolt Award for the best English-language play, and the 2007 Gwen Paris Ringwood Award. It follows the antics of Lawrence of Arabia and the poet Robert Graves, during their post-WWI reunion at Oxford University, where they steal livestock, shoot a typewriter for insubordination, and fly the university chancellor's trousers from the pinnacle of a library roof to protest the political glorification of war, before coming to terms with their own roles in the theatre of war.
In 2009, Massicotte's metaphysical play The Clockmaker premiered at playRites (dir. Bob White). Deemed "an intelligent meditation on time and memory" by J. Kelly Nestruck in his Globe and Mail review (23 Sept 2010), it begins with an interrogation of a timid clockmaker significantly named Heinrich Mann by a bullying bureaucrat, who accuses him of committing a potential crime. The scene moves then to the clockmaker's workshop, where he is asked to repair a smashed clock by a woman with whom he has possibly had a relationship in the past. According to Nestruck, "Massicotte seems to be arguing that who we are and how we feel – especially in regard to love – comes down to what we choose to remember and what we choose to forget." The play won a Betty Mitchell Award in 2009, and was subsequently produced at the Tarragon Theatre in 2010 (dir. Bob White).
The script for his latest play, Stars on Her Shoulders was performed movingly and convincingly by five actors at Spring Boards New Play Festival, Workshop West Theatre on March 25, 2023. Five nurses based in a Canadian Field Hospital respond very differently to their role in the war. Two have been wounded in another hospital when it was hit by a German bomb and are reluctantly off duty. One sees her work as an aspect of the struggle for women's rights, particularly the right to vote; she interprets the "stars on her shoulders" as a very real signifier of her rank as a lieutenant. The other, an "odd woman", despairs of any positive future, but she remembers a brief, intimate association with another, more optimistic nurse in the bombed hospital, who was killed.
Massicotte's screenplays include a supernatural thriller filmed on the Isle of Man called The Dark; and the cult horror film, Ginger Snaps and its sequels, for which he was awarded an AMPIA. He has also written scripts for the Disney TV series, Honey, I Shrank the Kids, and the CBC's Tom Stone.
He is a member of the Alberta Playwrights Network, the Calgary Society of Independent Filmmakers, and the Playwrights Guild of Canada. He currently lives in New York.
His advice to aspiring playwrights is to be involved with theatre, and to get a library card. He had no formal writing instruction, but believes that his experience as an actor prepared him well for writing for the stage. He believes that he has evolved from a playwright motivated by anger to a playwright who values positive social, personal, and spiritual values. He wants to address the nature of being alive, what people feel more than what they think.
Profile by Anne Nothof, Athabasca University
Last updated 2023-03-27