Melski, Michael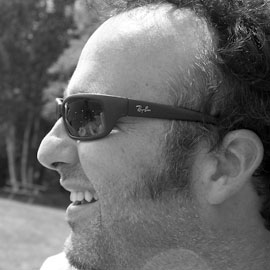 Michael Melski
Playwright, screenwriter, and director, born in Sydney Nova Scotia in 1972. His first exposure to theatre was Mermaid Theatre's giant puppet productions that toured to his elementary school in Cape Breton. He studied at the University of Kings College in Halifax in the late 1980s, where he acted and wrote plays. After graduating he formed a theatre co-op to produce plays in the early 1990s.
His first solo play was Joyride, for the Halifax Fringe Festival. In Caribou (Stephenville Theatre Festival 1995 and Mulgrave Road Theatre 1998), two hunters struggle for psychic survival on a mountain near a village along the Trans-Canada highway. Duncan has been mentally disabled since birth, and entirely dependent on his brother-in-law Louis, a construction worker, and his sister - Louis' wife - Anne. The play is loosely based on the story of Isaac and Abraham, with themes of yearning and sacrifice, rites of passage, and the covenant between animal instinct and civilized behaviour.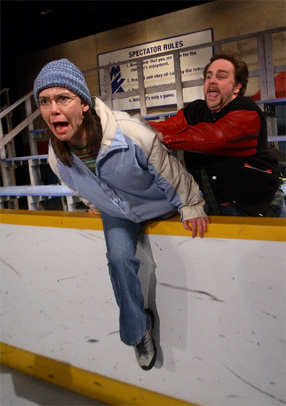 Hockey Mom, Hockey Dad
,
Theatre Network
Feb 2007, with Sharla Matkin & Frederick Zbryski. Photo: Ian Jackson / EPIC Photography
Melski's popular works include Hockey Mom, Hockey Dad (Two Planks and a Passion Theatre), which considers the endemic violence in hockey, and the response of two very different parents to their own sons' experiences on a rink in a small town in Cape Breton. Teddy is a voluble extrovert who encourages his son's losing team to hit first and think later, and he coaches Troy from the stands to be the "enforcer." Donna, shell-shocked from a violent marriage, is appalled by the physical violence on the ice. Desperate for a new "family," the divorced Teddy tirelessly pursues the reticent Donna, only to lose ground (almost) irretrievably when he encourages his son to punch a player instead of shaking his hand. The play attempts an even-handed look at hockey as both a confidence-building team sport, and a possible incubator of bullying tactics. Hockey Mom, Hockey Dad played at the Factory Theatre in 2003, and was nominated for a Dora Mavor Moore Award. It has subsequently played across Canada and in the U.S.
The Fly Fisher's Companion (Ship's Company Theatre 2005), set in rural Cape Breton, portrays the relationship of two old war veterans on their last fishing trip together. Their turbulent life journey finds a correspondence in the river they have visited since childhood.
Corvette Crossing (Eastern Front Theatre 2006) is set in 1941 in Halifax, where green young men gather to join the Canadian Navy. They constitute a cross-section of Canadian society: two antagonistic Maritimers, a Montreal Professor of Humanities with qualms about killing, a Toronto taxi driver, a Prairie farmer, and an Indigenous Canadian with a genius for fixing things. They come to serve in Corvettes, the small warships which protect Merchant ships from the lurking threat of German U-Boats in their crossing to Britain. During this vital mission, they survive internal and external conflicts, come of age, and help to win the Battle of Britain.
"Corvette Crossing successfully balances history, psychology, ethnic diversity, social issues, morality and mortality against the imperatives of dramatic story-telling. It's a great Atlantic Canada story on one level, but it's also national in scope, a truly Canadian story" (Stephen Pedersen, Chronicle Herald 29 Oct 2006).
Creepy and Little Manson premiered at Eastern Front Theatre in 2016. It portrays the relationship between Canadian gangster Alvin "Creepy" Karpis, and the young Charles Manson, who approaches Creepy for guitar lessons while they are imprisoned in the McNeil Island Penitentiary in 1962, to show how a murdering monster was formed.
Melski's writing for the theatre has been influenced by the style of David Mamet and Sam Shepherd.
He has been playwright-in-residence at the Shaw Festival and Shakespeare by the Sea.
He had a residency at the Canadian Film Centre, and has written film scripts for Mile Zero (2001) and Touch and Go (2003), as well as numerous TV scripts (Straight Up, Street Sense).
He has also directed for TV, including an episode for the CTV series Robson Arms. He was writer, director and co-producer of Growing Op.
In 2006, he was the recipient of the Halifax Mayor's Award for Achievement in Theatre.
Last updated 2021-05-06