Moodie, Andrew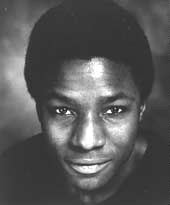 Andrew Moodie
Ontario-based actor/playwright/director, born in Ottawa in 1967, who exploded onto the scene in 1995 with his first play, Riot (Factory Theatre directed by Layne Coleman; winner of the Chalmers Award).
He began his acting career in 1987 in a production of Separate Development at the Great Canadian Theatre Company. He has subsequently performed in Our Country's Good (Great Canadian Theatre Company), Macbeth (Grinning Dragon Productions, Vancouver), and Minneapolis Dad in Whale (Young People's Theatre). He also acted in Riot when it was performed, in 1998, at Black Theatre Workshop (Montreal). In March, 2000 he performed in the Young People's Theatre production of Alice. In September, 2001, he appeared in the HurlyBurly (Toronto) production of Macbeth , and then in Othello for Shakespeare in the Ruff. For Blyth Festival he performed in World Without Shadows (2007). In 2012, he appeared in David Mamet's new play, Race for Ground Zero Theatre.
Other plays in which he has performed include: Oui (Factory Theatre), Wilbur County Blues (Blyth Festival) and A Common Man's Guide to Loving Women (March, 1999, jointly produced by Canadian Stage and the National Arts Centre and directed by Layne Coleman). In 2018, he played the judge in Calpurnia by Audrey Dwyer for Nightwood Theatre.
He has also performed extensively on television, and in 2006, became the host of Big Ideas for TVOntario.
His play, The Lady Smith, opened at Theatre Passe Muraille (March, 2000, directed by Coleman, published by Blizzard, 2000). Toronto the Good opened at Factory Theatre in 2009 (dir. Philip Akin, pub. Playwrights 2010). The Real McCoy premiered at the Factory Theatre in 2006 (pub. by Playwrights Canada Press, 2006). It was inspired by the true life story of Elijah McCoy, an inventor born in Canada to parents who escaped slavery. McCoy helped to revolutionize the steam engine, despite monumental challenges. In the summer of 2023, Moodie directed The Real McCoy at the Blyth Festival.
Moodie also was a key contributor to the radio drama series, Afghanada (2006-11).
Moodie's plays are always politically engaged. He believes that "We now live in an age where political theatre can become a phenomena, a meme, through which the lines between artist and audience are blurred. I do not want to create a static piece of theatre that is observed, I want to start a dialogue, a real, substantive dialogue, that can include citizens and policy makers. I donít believe that theatre can change the world, but I believe that a play can create a conversation that resonates within a community, and that community can create change, if they choose to. If WE choose to."
He launched his blog, "Share the Stage," to encourage racial and cultural diversity in casting in theatre in Canada, and to encourage inclusive hiring practices behind the scenes.
His sister, Tanya Moodie, studied at RADA in London at the age of 17, and is now an acclaimed stage and television actor in Britain.
Profile by Gaetan Charlebois and Anne Nothof
Website: andrewmoodie.webs.com
Last updated 2023-03-24