Newton, Christopher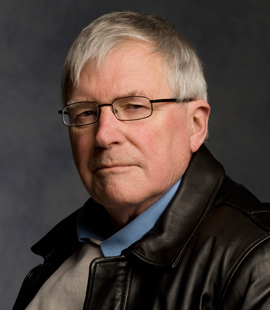 Christopher Newton
Ontario-based actor/director/playwright and Artistic Director for the Shaw Festival from 1979 to 2002. Christopher Newton was born in Deal, England, June 11, 1936; his father was from Yorkshire, his mother from Wales. He died on December 20, 2021 at the age of 85.
He studied at the University of Leeds (B.A.), Purdue and University of Illinois (M.A. 1959) before coming to Canada in 1961 to audition for the Stratford Festival in 1961. Although he was rejected, he acted for the Canadian Players in a cross-country tour of Julius Caesar and Saint Joan. Following a brief stint with Vancouver Playhouse, he spent three seasons (1966-68) with the Stratford Festival.
In 1968 he became Artistic Director for Theatre Calgary and then, from 1973, he was Artistic Director for the Vancouver Playhouse for six years. In both theatres, he exercised his philosophy of having an ensemble of performers, rather than "jobbing in actors on a season-by-season basis." He was more interested in an actor's theatre, than a writer's theatre.
He brought this attitude to Shaw, and from the first season there, attempted to change the company from a lightweight house to the international powerhouse he envisioned. He began bringing in directors like Derek Goldby and John Hirsch, who changed the face of the Festival. Firstly, Newton felt the company could not survive if it were to present so much Shaw in its lineup. "One's got to realize," he said in interview, "that one can't have a festival devoted solely to Shaw. He's not good enough." This must have rankled many, but he proved that the shift was a good one.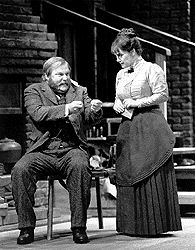 As an actor he had great ability and, early on in his tenure at Shaw, demonstrated his prowess in Feydeau's A Flea in Her Ear, deftly taking the farce to another, even more hilarious, plane. Other credits include: The Philanderer, The Suicide, Cyrano de Bergerac, Private Lives and The Marrying of Ann Leete.
As a director, he was praised for bring bringing out the theatricality of the Shavian canon and for bringing a current sense of humour to the Shaw Festival. He directed many of the company's productions, including Noel Coward's Easy Virtue and Thornton Wilder's The Matchmaker (both in 2000). In 2011, he returned to the Shaw to direct Heartbreak House for the second time at the Festival. In 2014, he directed a little-known work by Shaw's contemporary, St. John Hankin, entitled The Charity That Began at Home, which explored the chaotic consequences of philanthropy for an upper-class family.
In 2000, he also directed the Vancouver Playhouse and Grand Theatre, London co-production of She Stoops to Conquer . In 2012, he directed Much Ado About Nothing for the Stratford Festival.
He said to the CBC in 1999, of producing a play (in this case, Noel Coward's Easy Virtue), "Plays are about the density of experience when you go to the theatre and the density of experience in the rehearsal process... My job as a director is to reveal that complexity in the writing through the actors and they bring their own baggage [as well]...[Directing] is not to simplify, it is to say, 'Look...look...look; all this connects.'"
His own plays include: Slow Train to St. Ives (Manitoba Theatre Centre, 1966), The Sound of Distant Thunder (Vancouver Playhouse, 1977).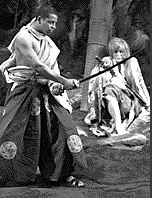 Typical of Newton's break from works by Shaw is this 1996 production of Rashomon
In 1991, Newton received the Toronto Drama Bench Award for Distinguished Contribution to Canadian Theatre. In 1996, he was named a member of the Order of Canada and was awarded the prestigious M. Joan Chalmers Award for Artistic Direction. In October, 2000, he received the Governor General's Award for lifetime artistic achievement. In May 2002, he received an honorary Doctorate from the University of Toronto. He has also received honorary degrees from Brock University, Wilfrid Laurier University, the University of Guelph, Buffalo State University, Ryerson University, and the Royal Conservatory of Music in recognition of his contribution to Canadian theatre. Other honours include the prestigious Molson Prize for his work over the years at the three theatres of which he has been Artistic Director, the Toronto Arts Lifetime Achievement Award for his "monumental" impact on Canadian theatre, and more recently, the United States Institute for Theatre Technology's Thomas DeGaetani Award for his lifetime contribution to the performing arts. In 2018, he was made Officer of the Order of Canada.
An archival collection on this subject is available at the L.W. Conolly Theatre Archives at the University of Guelph, Ontario.
Profile by Gaetan Charlebois. Additional information provided by Christopher Hoile and the Shaw Festival website.
Last updated 2021-12-30