Ouzounian, Richard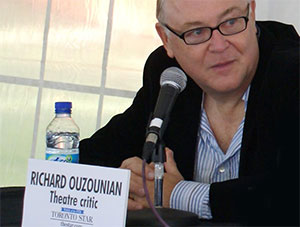 Richard Ouzounian
Director, playwright, critic, and artistic director born in New York in 1950. Richard Ouzounian graduated from the University of British Columbia with an MA in 1972. He has been involved--as actor, director or writer--in over 250 theatre productions.
In 1973, he directed Much Ado About Nothing at the Citadel Theatre, starring John Neville and Brent Carver. He also directed Betty Lambert's Sqrieux de Deux at the New Play Centre (now Playwrights Theatre Centre) in 1975, with Michael Ball, Susan Wright and Lally Cadeau, which toured to Edmonton, Vancouver, Kingston and Ottawa before playing at Theatre Maisonneuve during the Montréal Olympics of 1976.
In 1999, the Stratford Festival presented his musical theatre piece, Dracula (previously presented at Neptune Theatre), for which Ouzounian wrote the book and lyrics (music by Marek Norman). That same year, the Charlottetown Festival presented Emily (his adaptation of Emily of New Moon). He also wrote a musical adaptation of Carol Shields' Larry's Party (with Marek Norman, Canadian Stage, January 2001, directed by Robin Phillips).
He has served as AD at Neptune Theatre (1986-89), Manitoba Theatre Centre (1980-84), Festival Lennoxville (1978-80), and Young People's Theatre (1979). He was associate director at the Stratford Festival (1986-89). He also served as Hal Prince's assistant for the Canadian production of Phantom of the Opera.
Ouzounian was Creative Head of Arts Programming at TV Ontario (1995-2000). He was also a cultural reporter for CBC and, from 1991 to 2000, a theatre critic for Radio 1. From 1990 to 2004, he hosted Say It With Music on Radio 2. In June, 2000, he became the theatre critic for The Toronto Star, filing his last review in 2015.
Ouzounian's sensibilities are solidly commercial.
Profile by Gaetan Charlebois. Additional information provided by Jim Betts, L.W. Conolly and M.K. Piatkowski.
Last updated 2021-03-31