Rudy, Brad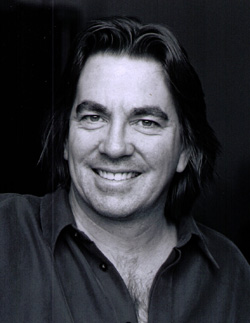 Brad Rudy
Actor, director, instructor, based in Stratford Ontario. He has a Bachelor of Fine Arts in drama from the University of Alberta (1982), and has studied musical theatre at the Banff Centre for the Arts (1985). He has a long history of workshopping and premiering new Canadian scripts.
Brad Rudy has appeared in fifty-five productions at all four theatres in the Stratford Festival over twenty-two seasons, including: Sol Rifkin in Palmer Park (2008) by Joanna McClelland Glass); Raif in Pentecsost (2007) by David Edgar; Bill Sikes in Oliver! (2006); George Stub/Showman in The Donnellys: Sticks & Stones (2005) by James Reaney; St. John Voranguish in The Swanne, Part III (2004) by Peter Hinton; and in the title role of The Count of Monte Cristo (2004). He is the only Stratford actor to play roles in all eight of Shakespeare's "Wars of the Roses" plays, consecutively. Stratford Festival musical credits include: Sergeant of Police (The Pirates of Penzance), Mayor Shinn (The Music Man), Paul (Kiss Me, Kate) and JoJo (Irma La Douce).
In 2009, he made his debut at the Blyth Festival in The Mail-Order Bride by Robert Clinton, and Innocence Lost by Beverly Cooper. In 2010 he acted in The Book of Esther by Leanna Brodie, and in Bordertown Cafe by Kelly Rebar at Blyth. In 2012, he played the father in the Canadian production of War Horse at the Princess of Wales Theatre.
The same year, he co-founded Alternative Theatre Works in Stratford with Robert King and Peggy Coffey, and directed Falling: A Wake by Gary Kirkham.
He has directed Our Town for the Mercury Theatre, and for the Shakespeare-on-Wheels program. He has choreographed stage fights for Theatre Aquarius and Touchmark Theatre, and regularly instructs stage combat workshops. He has worked in film and television as an actor and stuntman.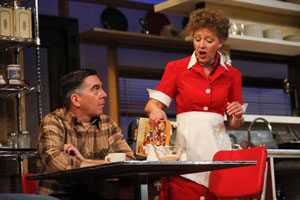 Brad Rudy and
Michelle Fisk
in
Bordertown Cafe
by Kelly Rebar, Blyth Festival, 2010.
Photo by Terry Manzo.
As an acting and stage combat instructor, he has taught at St. Clair College in Windsor, Ontario, Fanshawe College, London, Ontario, Michigan State University, the University of Western Ontario, and the University of Waterloo.
He was married to actor, Anne Wright (d. March 2023). In 2019, their daughter, Emma Rudy, was selected as the 19th actor to play Anne Shirley in Anne of Green Gables at the Charlottetown Festival.
Last updated 2023-03-20