Tifo, Marie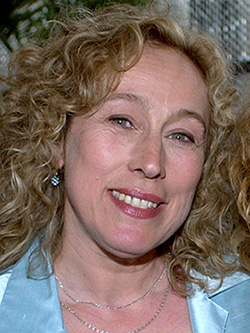 Marie Tifo
Quebec-based actor born Marie Thiffeault in 1949 in Chicoutimi Quebec. Marie Tifo has had an exceptional career in film and television as well as in theatre, acting in over eighty plays and thirty films, as well as several television series. She studied at the Conservatoire d'art dramatique de Québec and first performed with Troupe des Treize.
For the Théâtre du Trident, she acted in fifty plays to the mid 80s. Among the plays in which she has performed leads are Réjean Ducharme's HA ha!... (Théâtre du Nouveau Monde/TNM, 1990), AR Gurney's Lettres d'amour/Love Letters (Théâtre du Rideau Vert, 1993), Brecht's Mère Courage/Mother Courage (Théâtre du Rideau Vert, 1995) and Maureen Hunter's L'Atlantide/Atlantis (Théâtre la Licorne, 1999). In February 2000, she appeared in the premiere of Michel Marc Bouchard's Sous le regard des mouches (directed by Bouchard) Compagnie Jean-Duceppe), and in the TNM world premiere of Robert Lalonde's Monsieur Bovary (January, 2001).
Tifo's performances are marked by extreme focus, emotional intensity and an attention to character detail.
Profile by Gaetan Charlebois.
Last updated 2020-04-17