Turcott, Iris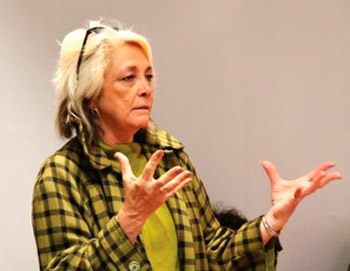 Iris Turcott
Dramaturge, director, and actor, Iris Turcott began her training at the City Literary Institute in London, England, then completed an Honours Degree in English and Drama at the University of Western Ontario, and a Bachelor of Education specializing in theatre at the University of Toronto. She assisted in the development of new plays across Canada. Among many others, she worked with Adam Pettle, Joan MacLeod, Michel Marc Bouchard, Brad Fraser, Tomson Highway, Ronnie Burkett, Robert Chafe, Daniel MacIvor and Anusree Roy.
She spent seventeen years as company dramaturge at the Canadian Stage, and worked at the Stratford Festival in the development of Daniel MacIvorís Best Brothers (2012) and Judith Thompsonís The Thrill (2013). Since 2013, she was the company dramaturge at Factory Theatre.
She was involved in several international co-commissions with the Royal Exchange in Manchester, the Melbourne Festival, and the Abbey Theatre.
Iris Turcott was active in arts education and publishing. She taught at the National Theatre School of Canada, and served on the board of directors for the LMDA (Literary Managers and Dramaturgs of the Americas). She was also co-founder and co-artistic director of Playbill Theatre.
With Keith Turnbull, she edited Canada On Stage: Scenes and Monologues (Toronto: Playwrights Canada Press, 2006).
In 2008, she was awarded the George Luscombe Award for mentorship in theatre. In 2013, she was selected as Playwrights Guild of Canadaís Honorary Award recipient for her devotion to Canadian theatre, and her work with Canadian plays and playwrights.
Iris Turcott died September 22, 2016 of cancer. In his recognition of her contributions to Canadian theatre, Robert Chafe wrote: "Iris was the purest artist Iíd ever met. Money truly didnít matter to her. Recognition didnít matter to her. Story did. Being true to an audience did. Honouring them. She loathed sentimentality, but she loathed pretension more. She demanded emotional honesty. She demanded engagement."
Sources: Playwrights Canada Press and Playwrights Guild of Canada websites
Last updated 2021-06-18