Van Belle, David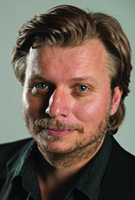 David van Belle
Playwright, director, and performer, born in Amsterdam, and currently based in Edmonton Alberta. David van Belle's grandparents emigrated to Canada from the Netherlands following World War II, impressed by the Canadian soldiers who liberated their town from the Nazis.
Van Belle has an MA in Drama from the University of Guelph, and came to Calgary to complete his MFA in Directing in 1999 at University of Calgary. His thesis production was Vaclav Havel's absurdist play, Temptation. He spent seven years as part of the ensemble of One Yellow Rabbit Performance Theatre, touring nationally and in Europe. He left OYR in 2007 and became playwright-in-residence at Alberta Theatre Projects from 2007 to 2010, and again in 2014/15. From 2009 to 2015, he was co-Artistic Director with Eric Rose of Ghost River Theatre, continuing his association as creator-in-residence.
He has exercised his passion for devised creation in Buzz Job! The True Story of Cal Cavendish, created with Kris Demeanor; The Invisible Project, created in residence at Calgary's largest homeless shelter as part of the High Performance Rodeo; Garden Cities of To-Morrow, created with Lullaby Baxter; and Twisted with Forte Musical Theatre Guild and the Bitter Suite Society (Betty Mitchell Nomination, Outstanding Production of a Musical).
The Highest Step in the World by David van Belle and Eric Rose premiered at Alberta Theatre Projects' playRites festival in 2010. This multimedia aviation fantasy explores the fascination of risk-taking, and the exhilaration of free-falling from the perspective of a NASA test-pilot who jumped from a weather balloon 31,300 metres above the earth. The play references the myth of Icarus, a Serbian flight attendant who was the only survivor of a terrorist bomb attack, and the personal life of co-creator and actor, David van Belle. It has subsequently toured across Canada. The production was awarded the Betty Mitchell Award (2010), and given the Award for Technical Merit in 2012 by the Canadian Institute for Theatre Technology.
In 2012, Ghost River premiered van Belle's Everything Is Terribly Nice Here,, which takes the 2004 murder of Dutch filmmaker Theo Van Gogh as its starting point and asks the question: Who are we as human beings underneath our ideologies?
In fall, 2014, Theatre Calgary premiered van Belle's ambitious new play, Liberation Days (dir. Daryl Cloran), which enacts the positive and negative consequences of the liberation of a small Dutch town from Nazi occupation by Canadian soldiers. The romantic interest of a young Private for a Dutch woman is complicated by her engagement to the local minister's son, who returns home after being sent to a German forced-labour camp. The play references the fact that relationships between Dutch women and Canadian soldiers did not all end happily: 6000 children were born as a consequence of their interaction, most of whom were raised by single mothers when the Canadians departed. And Dutch women who had relationships with German soldiers were abused by the community. Even the motives of the Canadian "hero" in Liberation Days are ambivalent. The production was nominated for seven Bettys.
After a five-year development period, The Last Voyage of David Crowhurst (dir. Rose) premiered at Alberta Theatre Projects in February 2015. Devised by van Belle and Rose from the logs of a British amateur sailor who attempted to sail around the world solo in 1968, it explores from multiple perspectives the dangerous effects of isolation on the imagination, using real-time streaming video and projections. It is a story of hubris, but it also demonstrates an obsession with truth and honesty -- to tell the "right story." The production won six Bettys, including Outstanding New Play, director, actor, and projections.
In March 2018, Verb Theatre premiered his commissioned performance piece Easter Island, which explores the damage and scars inflicted by striving for excellence. This experiential female solo show traces the demise and possible salvation of three characters navigating a world-gone-wrong and coming to terms with their involvement in its creation and inevitable destruction (Verb Theatre website).
In March 2019, Ghost River Theatre presented GIANT (with the Festival of Animated Objects) at the Grand Theatre in Calgary. Co-written by Van Belle and Rose, it performed the story of professional wrestler/actor Andre the Giant told from the perspective of his estranged daughter. An ensemble of five female actors engaged in wrestling, and manipulated puppets of various sizes, performing in a wrestling ring.
Van Belle is also working on Velvet Revolution, about the end of forty years of Communist rule in Czechoslovakia in 1989, when a protest initiated by drama students galvanised the theatre community, inspired by playwright Václav Havel, who was elected President by the end of the year. The play explores the implications and consequences of "freedom" in the first act, and "responsibility" in the second.
For the Citadel Theatre in 2019, he created a twentieth-century version of A Christmas Carol, set in a department store.
Van Belle was appointed writer-in-residence at the Edmonton Library for 2017. He is married to actor Vanessa Sabourin, co-founder of The Maggie Tree; they have two daughters.
In 2022, he received a Gwen Pharis Ringwood Award from the Writers' Guild of Alberta for his play, Love is Magic. The Jury remarked that it is "a thrilling, highly theatrical play that captures the angst of the [Covid] pandemic and lifts it into the realm of the mystic and the transcendental through its absurd yet gut-wrenching dark comedy. It's an unruly and poetic fusion of the personal with the political that inhabits and transcends this "time" through the bodies and souls of a husband and wife in need of salvation. The stuck-at-home straight-jacketed trap of endless days morphs into a startling performance that is ultimately about the magic needed to reimagine imperfect love, life, and the way forward. . . The incredibly strong characters make us laugh and feel moved by their strange situation. And the magic in the piece makes this play, well . . . magic" (www.writersguild.ca).
Website: https://www.davidvanbelle.com
Sources: Ghost River website
J. Kelly Nestruck. "Our feel-good past with shades of grey," The Globe and Mail 22 Oct 2014: L2.
Profile by Anne Nothof, Athabasca University
Last updated 2022-06-14