Wagner, Colleen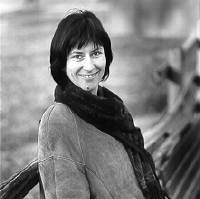 Colleen Wagner
Playwright and screenwriter, born in 1949 in Elk Point Alberta. She studied at the Ontario College of Art and the University of Toronto, and has worked as a designer and an actor before beginning her writing career.
Her first play, Sand (co-produced by Nightwood Theatre and Factory Theatre 1986) is set on a desolate farm that has turned into a dust bowl, and depicts the disruptive consequences of the return of a woman to her family home. It was selected for the final shortlist for best international play at the Royal Exchange Theatre in Manchester, England.
Eclipsed (Words Festival, Canadian Stage Company 1991) compares the attempts by parents to keep their son alive after he has been diagnosed with a fatal disease to the attempt by a gardener to save his garden from blight. It investigates the possibility of freedom and the tyranny of love.
The Monument premiered at the Canadian Stage Company in a co-production with Necessary Angel Theatre and the Manitoba Theatre Centre 1995, directed by Richard Rose. A second performance was presented at Northern Light Theatre, Edmonton in 1995, directed by DD Kugler. It has been performed across Canada and internationally, including at La Mama in Melbourne, in Berlin, and Beijing China, and has been translated into four languages. In 2009 it toured Rwanda, produced in English and the local Kinyarwanda dialect. In 2011, the Isoko Theatre from Rwanda performed The Monument at World Stage (formerly duMaurier World Stage Festival in Kinyarwanda with English surtitles. It won the Governor Generalís Award in 1996.
The play investigates the possibility of forgiveness when a young soldier convicted of raping and murdering 23 women is saved from execution by a woman on condition that he will come with her and do everything she tells him for the rest of his life. She hopes he knows where to find her missing daughter. But her first act is to chop off his ear, tether him by the neck and beat him for not knowing the difference between the truth and a lie, between good and evil. She then subjects him to a series of tests of his humanity, including the unearthing of the women he has murdered in order to construct a monument. The scenario is based on the atrocities of the Bosnian War.
Director Richard Rose considers The Monument "simply one of the most gripping new scripts [he has] read. It provokes and debates the quality of mercy in a war of terrible cruelty... The Monument is a play about the possibilities of the future for a world burdened with a horrific past."
The Morning Bird premiered at the NotaBle Acts Theatre Festival in Fredericton, New Brunswick in 2005.
In 2009, Down from Heaven was produced by Imago Theatre at the Monument National. It is set during a pandemic and food crisis, and explores the events that lead to the collapse of civil society, revealed through the lives of a wealthy family and their former gardener.
Wagner's latest play, Home, premiered at Bus Stop Theatre, Halifax in February 2010.
Colleen Wagner is the co-founder of NotaBle Acts Theatre Festival in Fredericton, New Brunswick, devoted to the development of emerging writers; and was co-Artistic Director from 2002-2007. She was playwright-in-residence at Necessary Angel Theatre and Canadian Stage, and at the University of New Brunswick. She teaches screenwriting at York University in Toronto.
Her plays are published by Scirocco, Talonbooks, and Playwrights Canada Press.
Profile by Anne Nothof, Athabasca University
Last updated 2022-02-23