Williams, Kenneth T.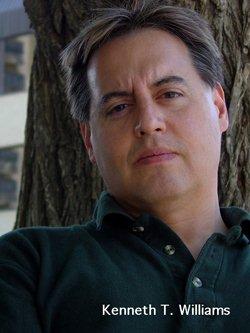 Cree playwright from the George Gordon First Nation in Saskatchewan. He is the first Indigenous writer to earn an M.F.A. in Playwriting from the University of Alberta. He then worked for the Aboriginal Peoples Television Network in Saskatoon as a reporter for six-and-a-half years.
His early plays include: Suicide Notes; AWOL: Aboriginals Without Official Leave; and Three Little Birds (Workshop West Theatre 2009, directed by Vinetta Strombergs and starring Tantoo Cardinal). He has also written an adaptation for Indigenous youth of Are We There Yet?, a touring participatory play by Jane Heather.
In Thunderstick (Persephone Theatre/Theatre Network 2010), two antithetical cousins, one an out-of-control alcoholic journalist, the other a highly controlled photographer, chase down a potentially hot political story, while battling each other over their past and present traumas. In Bannock Republic (Saskatchewan Native Theatre Company and Persephone Theatre (2010), the cousins Jacob and Isaac Thunderchild are reunited ten years after the mayhem of Thunderstick, when a beautiful and vengeful third-party manager brings chaos into their lives. Jacob is working as a video journalist and barely clinging to his sobriety. Isaac is now chief of their reserve and trying to get the band out of debt. Both plays are published by Scirocco Drama.
His play, Gordon Winter was workshopped at the 2009 Weesageechak Begins to Dance Festival at Native Earth Performing Arts in Toronto, and premiered at Persephone Theatre, Saskatoon in October 2010, directed by Del Surjik, with set design by Jim Guedo, and featuring Gordon Tootoosis in his last role before his death in July 2011. It subsequently played at the Arts Court Theatre in Ottawa, in May 2011 as part of the National Arts Centre Prairie Scene celebration of Manitoba and Saskatchewan arts and culture. Loosely based on the life of David Ahenakew (former National Chief of the Assembly of First Nations whose anti-Semitic statements occasioned controversy in 2002), the protagonist, Gordon Winter is an RCMP hero, a lifelong champion of First Nations' rights, a residential school survivor, and a bigot who clings to entrenched prejudices.
Café Daughter is a one-woman show inspired by the life of Dr. (and Senator) Lillian E. Quan Dyck, whose father was Chinese, and mother was Cree. She grew up in rural Saskatchewan cut off from her connections with her Indigenous heritage. As Williams explains: "This is a story about Canada. It's a story about family. The Chinese Immigration Act and the Indian acts were designed to break families. They were designed to fracture families. The story of this play is about how a new family was formed because of these pieces of legislation. Lillian's parents would not have met if the Chinese Immigration Act didn't exist." Café Daughter was produced by Gwaandak Theatre in 2011 and 2013, and toured to Native Earth Performing Arts in Toronto, Magnus Theatre in Thunder Bay, MT Space in Kitchener, and the Talking Stick Festival in Vancouver (dir. Yvette Nolan with PJ Prudat as Yvette). The Saskatchewan Native Theatre Company (now GTNC) production starred Rose Kristin Friday (April 19-28, 2013). Café Daughter was produced by Workshop West Theatre in association with Alberta Aboriginal Performing Arts in November 2015, with Tiffany Ayalik as Yvette. In June 2018, the play was performed in Belgrade, Serbia at the Festival of Mime and Monodrama, with the Workshop West cast and crew, and took home two festival prizes: the Golden Medallion as the best of the festival, and the Audience Jury award to Tiffany Ayalik for her portrayal of Yvette Wong. The play is published by Scirocco.
In October, 2020, his latest play, The Herd was slated for a world premiere at Tarragon Theatre in association with the National Arts Centre Indigenous Theatre. Because of the Covid-19 pandemic that closed theatres across Canada and around the world, the production was cancelled, but was streamed on-line in an "acoustic" format (dir. Kevin Loring). The Herd premiered at the Citadel Theatre in April, 2022 (dir. Tara Beagan). Twin white bison calves are born in a herd owned by a First Nation on Treaty 4 Territory. The event creates both hope and controversy about the calves' spiritual, commercial and scientific significance.
In his plays, Williams creates interrogative scenarios from the fraught circumstances of Indigenous history, while portraying possibilities for positive change.
From 2016-17, he was Interim Artistic Director of Gordon Tootoosis Nikaniwin Theatre in Saskatoon (formerly Saskatchewan Native Theatre Company), where he worked "to stay true to the legacy put forth by Gordon Tootoosis," and work with young artists in the development of their craft. (Theatre statement). He is currently an Assistant Professor in the Drama Department at the University of Alberta, and playwright-in-residence at Tarragon Theatre.
He was presented with a Saskatchewan Arts Award for Artistic Excellence in October, 2017.
Profile by Anne Nothof, Athabasca University
Last updated 2022-04-05