Wilson, Lee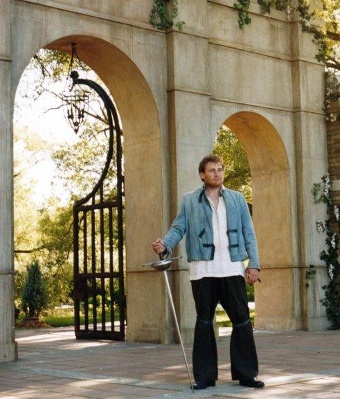 Lee Wilson as Benvolio in Resurgence Theatre's production of Romeo and Juliet (dir. Chris Abraham)
Toronto-based actor, director, and TV producer, born in Newmarket, Ontario.
He was founding artistic director of Resurgence Theatre Company in Newmarket, which produced an annual York Shakespeare Festival.
He studied theatre at Ryerson Theatre School before being accepted into the inaugural Soulpepper Theatre Company training program under Robin Phillips.
In 2003/2004, Lee was awarded the Urjo Kareda Residency Grant to intern with director Richard Rose at the Tarragon Theatre in Toronto.
In 2004/2005 he was the resident director in the Birmingham Conservatory for Classical Theatre Training at the Stratford Festival, and in 2005/2006 he was an intern director at the Shaw Festival. In 2008/2009 he was the apprentice artistic director/artistic associate at the Grand Theatre, London, Ontario. He was one of eleven directors who participated in the Inaugural Michael Langham Workshop for Classical Directors founded by Des McAnuff at Stratford in 2010.
Among his directing credits are The Valiant (Shaw Festival Directors Project); Hamlet, Twelfth Night and Romeo and Juliet (Resurgence Theatre); Paradise by the River (Shadowpath Theatre Productions, 2008); and As You Like It (Grand Theatre, London, 2009). He was the assistant director to Des McAnuff on The Tempest film and stage production at the Stratford Festival in 2010. He was also the assistant director to McAnuff on Tommy at the Stratford Festival.
He directed several productions in Ireland, where he also has citizenship, including the world premiere of Running with Dinosaurs by Nadine Flynn at The New Theatre in Dublin, East of Berlin by Hannah Moscovitch, and The Eurydice Project by Joanna Crawley at The Project Arts Centre in Dublin.
In 2013, he was nominated by his peers for the Christopher Plummer Fellowship Award for his outstanding contribution to Shakespeare performance in Canada.
He was Executive Producer on a TV Mini-Series based on the New York Times best-selling novel Lion of Ireland by Morgan Llywelyn, chronicling the life of Ireland's first High King Brian Boru.
He is an Assistant Professor in Acting in the School of Dramatic Art, University of University.
Last updated 2022-03-09