Wright, Susan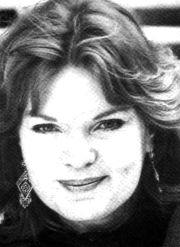 Susan Wright
Acclaimed actor, born in 1947, died tragically in a house fire in Stratford Ontario in 1991. She was a member of the Wright family from Saskatoon, Saskatchewan, who have indelibly marked Canadian theatre, especially that of Western Canada, including siblings Janet Wright, Anne Wright, and John Wright.
Susan co-founded Persephone Theatre with Brian Richmond and sister Janet, acting in, among others, the touring production of Ken Mitchellís Cruel Tears. She played leading roles with most major companies across the country, including the Shaw Festival, Vancouver Playhouse, Neptune Theatre, Alberta Theatre Projects, and Grand Theatre, London.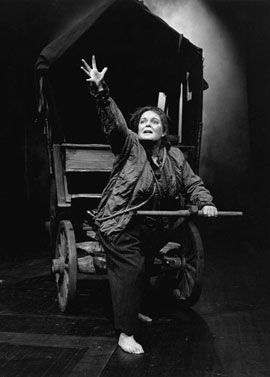 Susan Wright as Mother Courage,
Stratford Festival, 1987.
Photo by Michael Cooper.
Courtesy of the the Stratford Festival Archives.
In the 1980s, she played seven seasons at the Stratford Festival, including roles as Mistress Quickly in The Merry Wives of Windsor; Queen Margaret in Richard III; Paulina in The Winterís Tale; Mrs. Webb in Our Town; the Citizenís wife in The Knight of the Burning Pestle; and as Germaine Lauzon in an acclaimed production of Les Belles-soeurs with her sisters Anne and Janet. Her powerful and moving interpretation of the tragic protagonist in Brechtís Mother Courage (1987, dir. John Neville) is particularly noteworthy. Her extensive tour in the one-woman play Shirley Valentine in 1991 was also highly acclaimed.
She won two Dora Mavor Moore Awards for best actress in Lie of the Mind and New World.
She also had a solid career in television and film, including principal roles in Thick as Thieves, The Wars, and the series Adderly, and she won a 1985 ACTRA Award as Best Actress for the role of Elizabeth in CBC's Slim Obsession.
Last updated 2023-03-20