Burkett, Ronnie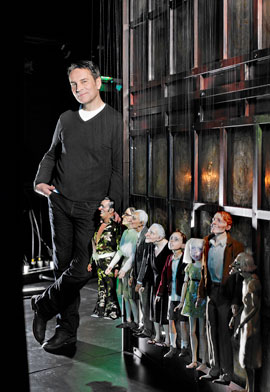 Ronnie Burkett
Actor/writer/puppeteer born in Lethbridge, Alberta, June 10, 1957.
Inspired at seven by an article in an encyclopedia and then by a puppet performance in the movie The Sound of Music, Burkett began his apprenticeship at fourteen at an international conference of puppeteers he attended in Michigan. At the age of nineteen he moved to New York, and performed with Bill Baird's company in Greenwich Village, the only permanent Equity puppet theatre in North America.
Burkett then worked for television, notably PBS, before forming, in 1986, the Ronnie Burkett Theatre of Marionettes to produce satirical works aimed at an adult audience. The company's first work was a wild "Commedia dell'Arte" musical, Fool's Edge (Edmonton Fringe Festival 1986), which played at festivals and theatre companies across Canada. It was followed by the raunchy melodramatic operetta Virtue Falls, and a satirical metatheatrical examination of the traditional Punch and Judy show called The Punch Club (1989), inspired by Burkett's stint at the Shaw Festival.
Awful Manors (Theatre Network 1990) is another high-camp tour de force, a gothic romance-thriller murder-mystery musical with 17 characters and 43 marionettes, including romance novelist Beatrix Poppers, the interior decorator Nicky Nacque, and Phyllis Stein of the Canada Council
It was in 1994, however, with the creation of Tinka's New Dress (Manitoba Theatre Centre), that Burkett gained an international reputation. Tinka's New Dress is a fable based on the illegal underground "Daisy" plays of Nazi-occupied Czechoslovakia, and speaks of how struggling artists survive (or don't) in a repressive society. It includes over 30 characters (all designed and performed by Burkett). Since its creation, the work has toured extensively, notably to the Dublin Theatre Festival, the Public Theatre (New York), the Festival de Théâtre des Amériques (now Festival TransAmériques, London's Barbican Centre (1999), and the Melbourne International Arts Festival (2002), where it received The Age Critics' Award. For Tinka, Ronnie Burkett has also won two Dora Mavor Moore Awards (Best Costume Design and Best Set Design) and five Sterling Awards (Best Actor, Production, Set, Costume). In 1999 Tinka and Burkett received a special citation at the Obie (Off-Broadway) Awards.
Tinka is the first part of The Memory Dress Trilogy, and was followed by Street of Blood (Manitoba Theatre Centre 1998) and Happy. The "prairie gothic" Street of Blood brings together the contaminated blood supply scandal, vampires and the second coming of Christ. (Sterling Award for costume design in 1999, and the Chalmers Award.) The Calgary run of the work won six of the city's Betty Mitchell Awards, and the Toronto run at the Canadian Stage in the 1991-2000 season wond a Chalmers Award. From there it played in New York, co-presented by the Henson International Festival of Puppetry and New York Theatre Workshop, where it received a second UNIMA-USA Citation for excellence in the art of puppetry, and named Outstanding New York Theatre production at the GLAAD Media Awards.
Happy premiered in April, 2000 at the DuMaurier World Stage Festival. It also performed at Usine C (Montreal), and Festival Theaterformen 2000 in Germany as part of Expo 2000. For the Theatre Network production in 2000 it was awarded Sterlings for Best Play and Best Actor. In June, 2001, it played at the Barbican Centre in London, England (to positive reviews). It tells of the sad and happy moments shared by the tenants of a small apartment building, focusing on a pensioner/veteran named "Happy". The play ends with Happy riding high on a swing, dressed spendidly in a bright yellow raincoat.
In 1996 Burkett was commissioned by the Manitoba Theatre for Young People to create a children's work (Old Friends), for which he won a Chalmers' Award in Theatre for Young Audiences. It features old folks on a day in the park -- "to show kids that everything that delights you, makes you crabby, makes you laugh, is the same when you're old." (Burkett)
Provenance (Theatre Network 2003) tracks the history of a painting of a beautiful young man, sold and stolen, displayed and desired over a century, now hidden in a Viennese bordello. It is a story of desire and obsession --"Specifically in terms of beauty and what people do to be near beauty or to possess it or to become it" (Burkett). A young Canadian art history student named Pity Beane has fallen in love with a mysterious boy in a painting and sets out to discover where it came from and how it came to be. It also won a Sterling for Outstanding New Play, and has played across Canada, at the Melbourne International Arts Festival (Patron's Award), the Vienna Festival, the BITE Festival at London's Barbican Centre, and the Brighton Festival, as well as in Stockholm and Hamburg.
10 Days on Earth (Canadian Stage 2006) has toured nationally and internationally. It performs the life of a "challenged" man and how he finally comes to understand the death of his beloved mother over a period of ten days of interaction with others in his neighbourhood. "God" appears as a ranting street bum, predicting the end of the world. It is published by Playwrights Canada Press.
Billy Twinkle: Requiem for a Golden Boy, a loosely autobiographical work which provides a candid glimpse into the making and unmaking of a puppet maestro, struggling with a loss of faith in his art, premiered at the Citadel Theatre in 2008. It is also published by Playwrights Canada Press.
Penny Plain was commissioned by the Citadel Theatre and National Arts Centre, and opened on the Citadel's Maclab stage in September 2011. Burkett portrays the apocalypse through a bizarre assortment of characters in a rooming house who resist or accept the inevitable in very different ways: Penny Plain, a blind, philosophical old woman with a dog who wants to be human for a companion; Tuppence, a naive young girl who applies for the job vacated by the dog; Queenie, a ranting old woman with a walker; her serial-killer daughter Jubilee who assumes the role of a Joan of Arc of the transit system; a disillusioned Geppetto and his son, an adult Pinocchio; and Melvin [Elvis] and Barbie Titty, American popular culture fundamentalists -- all realized through 35 extraordinary marionettes.
In 2013, Burkett launched The Daisy Theatre, a cabaret show which stars his puppet creations over the years, featuring Schnitzel from Tinka's New Dress, still trying to figure out his role in life. Co-commissioned by the Luminato Festival in Toronto and the Center for the Art of Performance at UCLA, the show is more improvisational than Burkett's previous works, responding to local politics and personalities (such as Bob Baker and Tom Wood in the Citadel Theatre production in October 2013), and involving audience members as puppeteers. It opens with an hilarious striptease by Dolly Wiggler, and includes a lament on the loss of erotic attraction by Jolie Jolie, and monologue on loneliness by a farm widow, Mrs. Edna Rural from Street of Blood, advised by her cow, Madeline Porterhouse, to "moove" to the city.
In 2019, Burkett opened his ambitious new show, Forget Me Not for the Luminato Festival, in which audience members are provided with hand puppets in order to participate in the performance. Although it is set in a digital world where writing is illegal, and interaction is depersonalized, it affords hope for the power of love.
When theatres reopened after the Covid-19 pandemic shutdown, Burkett launched Little Dickens in November 2022 at Canadian Stage's Berkeley St. Theatre, improvising on the classic Christmas story with characters from his Daisy Theatre ensemble. The Daisy Theatre gang appeared again in Little Willy, an irreverent pastiche of Shakespeare's Romeo and Juliet, at the CULTCH in January 2023. Burlesque star Dolly Wiggler starts the show with an Elizabethan striptease. All the leading ladies of the Daisy ensemble battle for the role of Juliet. Schnitzel and Mrs. Edna Rural improvise supporting roles, and Shakespeare himself joins the cast.
Burkett's main interest, however, is not in the puppets, but in people: "By shrinking them I cannot control them, but wiggle them around, and try to figure us out" (ffwd 16.46 [Oct 20-26]: 23). "At their best, puppets are little vessels that spark something in the audience. They have no reference point, unlike an actor, who we may have seen before. The puppet, then, exits only to be the character in the play you're watching at the moment (The Globe and Mail 1 June 19: R5).
Tinka's New Dress, Street of Blood, Happy and Provenance are published in String Quartet: four plays by Ronnie Burkett by Playwrights Canada Press, 2010. was published by Playwrights in 2022.
In 2001 Ronnie Burkett received the President's Award from the Puppeteers of America, and in 2003 the Herbert Whittaker Award for Outstanding Contribution to Canadian Theatre. In 2009 he was awarded the Siminovitch Prize in Theatre for design. In June 2019, he was named Officer of the Order of Canada.
He has taught performance at One Yellow Rabbit. He lives in Toronto.
Further reading: Liz Nicholls. "World on a String," Canadian Theatre Review 1998 (Summer): 31-37.
Profile by Gaetan Charlebois and Anne Nothof
Last updated 2023-01-10