Choinière, Olivier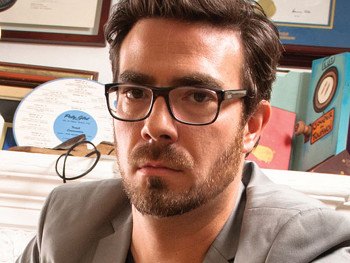 Olivier Choinière
Montreal Quebec-based playwright, born in 1974. He studied at the National Theatre School of Canada, graduating in 1996.
Olivier Choinière was initially a creator of young people's theatre with a decidedly raw and some would say bleak outlook.
His first work, Autodafé (1997), was directed by one of the most prestigious directors in the country, André Brassard, and the director went on to act in a subsequent work by the young author, Le Bain des Raines (1998), which was performed at a public bathhouse and was subsequently nominated for a Governor General's Award. La légende du Manuel Sacré premiered at Espace Libre in 1998.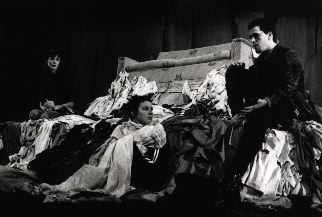 Chantal Dumoulin, Mireille Brullemans and Sylvain Scott in the 1999
Théâtre le Clou
production of Olivier Choinière's
Les Trains
, directed by
Benôit Vermeulen
(Photo: Simon Ménard)
Two of his works were created in the first half of 1999: Les trains (Théâtre Le Clou, directed by Benôit Vermeulen); and Soldats de bois (Théâtre de la Récidive, within the Festival de Théâtre des Amériques -- now Festival TransAmériques -- directed by Jean-Claude Coté).
In 2000, he launched a summer theatre company dedicated to presenting B-Movie style theatre in the city. He wrote and directed their productions of Tsé-Tsé (2000) and Agromorphobia (2001).
Félicité (2007) was produced in English at London's Royal Court Theatre, under the title Bliss, in a translation by Caryl Churchill. It has since been performed in English in Canada, Scotland, Australia and Switzerland. Venise-en-Québec (2006) and Nom de domaine (2013) were both short-listed for the Governor General's Award. Mommy (2013) won four awards at the Cochons d'or gala, and was a finalist for the prix Michel-Tremblay.
Olivier Choinière directed fifty actors in Chante avec moi (2010), which won a prize from the Association Québécoise des Critiques de Théâtre, and played at the , the Festival TransAmériques and the Théâtre du Trident. His excoriating play about the reunion of a dysfunctional family, Ennemi public, was produced in February 2015 at the Centre du Théâtre d'Aujourd'hui. Trans-adapted into English by Bobby Theodore, it was scheduled to open at Canadian Stage in 2020 (dir. Brendan Healy), but was delayed by the Covid pandemic to September 2022. Zoé, a two-hander about a philosophy professor and a student, set during the 2012 Quebec student protests, premiered at Nouvelle Compagnie Théâtrale / Théâtre Denise-Pelletier in February 2020.
The Canada Council recently awarded him the prix Victor-Martyn-Lynch-Staunton in theatre. In 2014, he was awarded the Siminovitch Prize in Theatre.
In his acceptance remarks for the Siminovitch Prize, he stated his reasons for play making: " I seek, as honestly as possible, to share my fears. I find sense in theatre when it makes me free. I hope to write plays that will have an echo in the lives of others and which ultimately answer the questions that I ask myself when I take my seat: "Why am I here? What do these people want to tell me? And why now?" Theatre is an art form from another era, which is why it reveals something unique about our own. As if we tried to bear witness to our modern reality by painting the walls of a cave with our fingers. It's this time warp that allows it to be our contemporary: to rendezvous in a real place, to gather there for a given time, an hour, two hours, to breathe the same air, to live the same "now." To take all that keeps us from an awareness of our own power and to put that on stage; to try to see it, to understand it, and to go back home with a bit of freedom, perhaps minute, but which remains, and will endure."
Profile by Gaetan Charlebois. Additional information from the Siminovitch Prize website.
Last updated 2022-09-09