Holmes, Eda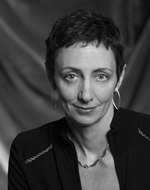 Eda Holmes
Director, born in Beaumont Texas, and a graduate of the National Theatre School of Canada. Eda Holmes began her stage career as a ballet dancer. She was a soloist with San Francisco Ballet, Dutch National Ballet and William Forsythe's Frankfurt Ballet until sidelined by a knee injury. She has since become one of the busiest and most accomplished theatre directors in Canada. Her work with new Canadian playwrights and women is particularly notable.
For the past few years, she has worked regularly as a director at the Shaw Festival, and in 2009 she was appointed Associate Director at Shaw. In 2016, Homes directed Mrs Warren's Profession; in 2015, she directed a Tony Kushner's complex work, The Intelligent Woman's Guide to Capitalism and Socialism with a Key to the Scriptures. In 2014, she directed an expressionistic and balletic production of The Sea by Edward Bond. For the 2010 season, she directed One Touch of Venus by Kurt Weill and S.J. Perelman; and Serious Money by Caryl Churchill. In 2009 she directed Bernard Shaw's In Good King Charles's Golden Days: A True History That Never Happened, and for the 2008 season, she directed Lillian Hellman's The Little Foxes. In 2003 she directed an outstanding production of Blood Relations by Sharon Pollock in the Royal George Theatre for the Shaw Festival. Other credits for the Shaw Festival include Tristan, the first new musical developed and produced at the Shaw; Love Among the Russians, the musical Floyd Collins (2004), and The Apple Cart (2023).
She has directed Laius for George Brown Theatre School; the premiere production of the new musical The Miracle Man, and Caryl Churchill's Serious Money (2009) for Ryerson University Theatre School; Morwyn Brebner's The Optimists and The Pessimists for Theatre Junction and Tarragon Theatre; Lucy for Canadian Stage; and The Fall for Great Canadian Theatre Company. Other directing credits include Iphigenia 2.0 for National Theatre School of Canada; Helen's Necklace(2003) by Carole Fréchette, and Alice's Affair by Susan Coyne for Tarragon Theatre. For Factory Theatre, she has directed Trout Stanley and The Gwendolyn Poems, both by Claudia Dey, and an English translation by Linda Gaboriau of The Madonna Painter by Michel Marc Bouchard. In January 2010, she directed the American musical The Last Five Years by Jason Robert Brown at the Grand Theatre, London. In 2015, she directed the English-language premiere of Tom at the Farm by Bouchard at Buddies in Bad Times (Dora Award).
Directing highlights include Brebner's musical Little Mercy's First Murder at Tarragon Theatre (2003), a Shaw Festival co-production that won seven Dora Mavor Moore Awards; Brebner's Music for Contortionist, a Tarragon Theatre/Shaw Festival co-production; Pina Bausch: a tribute, Harbourfront World Leaders Festival; Standing Female Nude, Factory Theatre Studio Café; Side By Side By Sondheim, Canadian Stage.
She has also directed Calgary Opera's production of Faust; and has assistant choreographed a new opera -- The Tale of Genji by Colin Graham for the Opera Theatre of St. Louis. In 2012, she adapted the story of King Arthur and Camelot for a new ballet, with music by Canadian composer John Estacio, for the Cincinnati Ballet Company.
In February 2017, she was appointed Artistic and Executive Director of Centaur Theatre, commencing her tenure in August 2017. She directed the premiere of Michel Marc Bouchard's latest show, Embrasse, for Théâtre du Nouveau Monde in September 2021, and also directed the English premiere (under the title Kisses Deep) at the Centaur Theatre in January 2022.
Eda Holmes was a script contributor and assistant choreographer for the Grammy-nominated film Satie and Suzanne. With Morwyn Brebner and Claudia Dey, she is currently developing a feature film based on the life of Canadian poet, Gwendolyn MacEwen.
She is a regular guest teacher at the National Theatre School of Canada, and McGill University.
Source: Shaw Festival website
Profile by Anne Nothof, Athabasca University
Last updated 2023-05-19