Lepage, Robert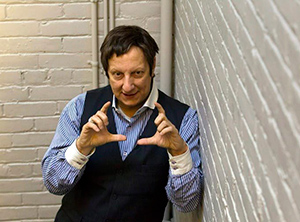 Robert Lepage. Photo by Frank Gunn, The Canadian Press.
Internationally-renowned playwright/
actor/director born in Quebec City, Quebec, December 12, 1957.
He was raised in a bilingual household with two older adopted siblings who were anglophone. He studied at the Conservatoire d'art dramatique de Québec before joining the Théâtre Repère, soon becoming its lead actor and then director. His first work for the company, Circulations (1984) toured nation-wide.
His productions from the start were marked by his bilingualism, his explorations into multimedia, his homosexuality, and an ongoing study of the act of creation itself. His works, like Vinci (which examines the life of Leonardo), Aiguilles et Opium (which scrutinizes Cocteau and Miles Davis), and his breakthrough success, La Trilogie des Dragons (1985-86) (a vast epic in English, French and Chinese which toured Canada and Europe) reveal a vivid imagination, a love of startling imagery, and an experimentation with new technology. Sometimes theatrical form itself is called into question.
Polygraph (with Marie Brassard) premiered in 1988; it is a metaphysical detective story, based on the murder of one of LePage's friends, and structured to suggest the many layers of truth and meaning inherent in human experience. Tectonic Plates (1988) envisions the collision of cultures and continents in terms of a large pool of water over which two grand pianos are suspended.
The Seven Streams of the River Ota was the first project developed with Lepage's company, Ex Machina, over a three-year period between 1993-96. An ambitious saga in seven parts, it begins in the late 20th century, but the central image is the atomic blast at Hiroshima, the consequences of which are deconstructed through multiple stories and points of view. The first three-part version was produced in French at the Edinburgh International Festival in 1994. As subsequent version was performed at Carrefour International de Théâtre, Quebec in 1996, and won the award for best Quebec production at the Masques Awards. Since then, the seven-part work has toured in French and English in England, the US and Europe.
In Elsinore (1996), Lepage's postmodern solo transcription of Hamlet, he plays multiple roles from the internalized perspective of the unhappy Prince. He juxtaposes familiar speeches, not necessarily in the right order, and relies on computer-controlled multi-media stage machinery to provide context. Critic Ric Knowles explains that "what at first seems in Elsinore to be a radical de- and re-conceptualization of Hamlet's greatest hits may begin to seem like a meditation on the fragmentary, disjointed and decontextualized process of Hamlet writing 'us' into (our contemporary version of) existence" (Canadian Theatre Review 17 (Summer 2002): 87-88).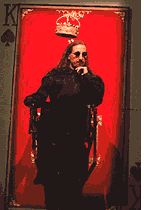 Robert Lepage in Elsinore
In 1997 Lepage devised a contemplative work on the works of Frank Lloyd Wright, entitled The Geometry of Miracles/La Géométrie des miracles, which toured internationally. In 1998 he created a 3D version of La Tempête/The Tempest and began work on Zulu Time which opened to mixed reviews in Geneva, and positive ones in Paris.
Lipsynch, developed over a period of several years, premiered at the Barbican Centre, London in September 2008. During its nine-hour duration, it follows nine characters across seventy years across the world, connecting the stories of disparate characters speaking in English, French, Spanish, and German. It explores the possibilities and limitations of the human voice and communication.
The Blue Dragon/Le Dragon Bleu (National Arts Centre 2009), written with Marie Michaud, and directed by Lepage, is a spinoff from The Dragon's Trilogy, with the same central figure, an artist who re-surfaces in Shanghai twenty years later. It explores the dynamic paradox of modern China, rapidly reinventing itself, but still burdened by censorship and repression. Lepage and Michaud also acted in the play, with Tai Wei Foo as the protagonist's lover. The Blue Dragon was a cultural contribution to the winter Olympics in Vancouver in 2010; it opened Fei and Milton Wong Experimental Theatre, Simon Fraser University.
Lepage returned to this theatre in 2012 with a production of Far Side of the Moon. His autobiographical work, 887 premiered at the Fei & Milton Wong Experimental Theatre in 2016. The number references his childhood address on Murray Street in Quebec City, named after the second-in-command under General Wolfe. It vividly evokes his self-awareness of Quebeckers as a conquered people. It won a Dora Award for Outstanding Touring Production in 2017.
As his reputation grew, so did his canvas and the works he has undertaken. His innovative interpretations of Shakespeare's plays garnered him an international reputation. In 1992, he directed A Midsummer Night's Dream for the National Theatre in London, the first North American to direct for this company. That same year, his series of productions of Shakespeare's Macbeth, The Tempest, and Coriolanus (all translated by Michel Garneau) began a tour throughout Europe, Japan and in the Festival de Théâtre des Amériques (now Festival TransAmériques), stirring up critical controversy, but transfixing audiences.
In the summer of 2011, Lepage returned to Shakespeare with an outdoor production of The Tempest in French at the Wendake amphitheatre near the St. Charles River, Quebec, in collaboration with the Huron-Wendat nation, including Indigenous and non-Indigenous actors. "The outcome was an eclectic mélange of Shakespeare text, westernized Indigenous dance, Québécois chanson, nature-inspired mythology, and physicalized acting" (Piet DeFraeye. Review of Robert Lepage's Scenographic Dramaturgy: The Aesthetic Signature at Work by Melissa Poll, in <Theatre Research in Canada 41.4 (2020): 161)./p>
In the summer of 2018, Lepage directed a contemporary interpretation of Coriolanus at the Stratford Festival. Mounted in the Arden Theatre, with a cinematic design created with his company Ex Machina, this was Lepage's first production for Stratford, and his first production of the play in English. It underscored the ways in which public opinion is represented by social media and social media; the fickleness of the populace; and destructive consequences of personal ambition. The critical response was mixed: In his review, Christopher Hoile states that form has superseded and skewed content: "Robert Lepage's production of Shakespeare's Coriolanus is dazzlingly cinematic if self-indulgent, but his change to the play's ending and other excisions of key characters demonstrate that he has virtually no understanding of the central issues of the play" (Stage Door 7 July 18). Robert Cushman was more favourably impressed: "The style and the discipline are maintained throughout. The staging might best be described as compartmentalised. Each scene unfolds in a small demarcated space, as if within a TV or computer screen...Lepage's production is physically set in rooms, but psychologically it escapes them. The play's scale remains. Lepage's sets (he's his own designer) hit the stage from all directions; from above, from below and – most often – from the side: sometimes from opposite sides simultaneously, so we get to visit two locations at once. This comes in very handy as the politics thicken, as the politicians hunker down in their own offices or shuttle between them" (stratfordfestivalreviews.com, 1 July 18).
In January, 2019, Lepage's French production of Coriolon (trans. Michel Garneau) opened at Théâtre du Nouveau Monde in Montreal.
In June 2018, he launched SLĀV at Théâtre du Nouveau Monde, co-created with Montreal singer, Betty Bonifassi for the Montreal Jazz Festival. Based on songs created by African-American slaves and labourers, and with only two Black performers in the six-member chorus, the production was met with protests, and was subsequently withdrawn by the Festival.
Lepage's new work, Kanata (co-authored with Michel Nadeau) was launched in July 2018, and scheduled for production by Théâtre du Soleil in Paris (produced by Ariane Mnouchkine). Following First Nations' protests that there were no Indigenous actors in the cast, accusations of cultural appropriation, and the withdrawal of funding, the production was cancelled. However, Mnouchkine decided to go ahead with a production in December, with Lepage as director. Kanata portrays Canadian Indigenous history, including the residential school system and missing and murdered Indigenous women.
From 1989 to 1993, Lepage was director of the National Arts Centre French-language theatre, but he has also directed at the Canadian Opera Company, the National Theatre (London, England), the National Theatre (Munich), and the Royal Dramatic Theatre (Stockholm). He has also stage directed a tour for rock star Peter Gabriel.
Lepage also directs and designs operas, including Bluebeard's Castle and Erwartung for the Canadian Opera Company, which toured to the Hong Kong Arts Festival, Geneva Opera, Melbourne, Brooklyn Academy of Music, and the Edinburgh International Festival. In 2010, with his company, Ex Machina, he designed and directed a spectacular production of Wagner's Das Rheingold for New York's Metropolitan Opera, using interactive video and a twisting vertical stage of illuminated planks.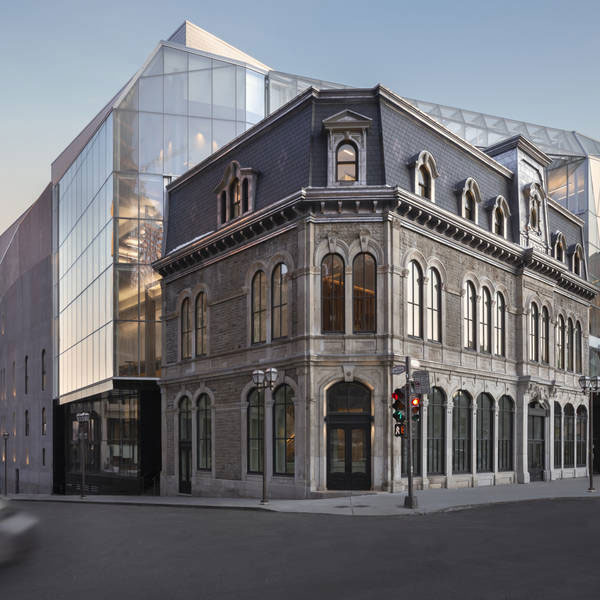 Le Diamont
Lepage's design for the Cirque du Soleil production, Ka in Las Vegas, required a new theatre with a floating stage.
His films include John Mighton's Possible Worlds (1999) featuring Tom McCamus, Gabriel Gascon and Rick Miller.
His company, Ex Machina, operated in renovated a fire station in Quebec City as a multidisciplinary arts centre that does research into theatre, opera, puppetry, dance and music. In 2017, Lepage initiated the construction of another creative space in Quebec City, called "Le Diamant", a $54-million complex to house his Ex Machina production company and for Canadian and international theatre-related arts (Globe and Mail 27 Jan 2018). It opened in September 2019 with an updated version of The Seven Streams of the River Ota.
Lepage has said of the extended, free-wheeling process he uses to create his works, "I don't even know what I'm writing until the audience tells me." During a discussion session at London's National Theatre (January, 1997), when asked what he thought theatre was, he answered, "I always come back to the same old notion that it's a gathering, a meeting point. A gathering in the sense that a group of artists get together to tell a story, and also the collective audience. The audience in a theatre room is very different from the audience to a film, because they actually change everything on the stage by their energy. You can't do that to a TV screen."
He is a Companion of the Order of Canada since 2011, and a recipient of a Governor General's Award. In November 2001, he received the London Evening Standard Award for his production of La Face cachée de la lune. In 2002, he was awarded the Herbert Whittaker Award for Distinguished Contribution to Canadian Theatre by the Canadian Theatre Critics Association. In 2013 he was awarded the $50,000 Glenn Gould Prize for a life's work that "enriches the social fabric of the culture."
Sources: Éve Dumas. "Robert Lepage est primé à Londres," Le Devoir, Montreal, 28 Nov 2001; Elizabeth Renzetti. "Lepage's nine-hour voice message," The Globe and Mail. Toronto, 6 Sept 2008.
Profile by Gaetan Charlebois and Anne Nothof.
Last updated 2021-12-17