Nardi, Tony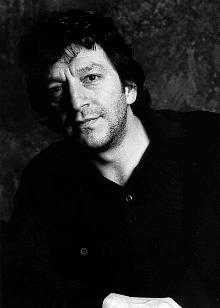 Tony Nardi
Actor and writer, born in Carolei, Italy, June 21, 1958.
Since making his debut in 1978 in Alex Hausvater's production of Solzhenitsyn, he has appeared in houses across the country in productions in French, English and Italian.
Among them Théâtre Français de Toronto (Johnny Mangano and His Astonishing Dogs, Les Guerriers, Eddy, L'Avare); Lovers and Madmen (Brutus in Julius Caesar); Persephone Theatre (Love and Anger, Uncle Vanya, Servant of Two Masters, Caesar and Cleopatra, Balconville); Necessary Angel (Dog and Crow); Factory Theatre (Open Marriage); Centaur Theatre (Guys and Dolls); Great Canadian Theatre Company (Sandinista, The Baseball Play); Neptune Theatre (Filthy Rich); Stratford Festival (Julius Caesar), among many other companies and productions.
In 1985 he studied and worked with Alberto Fortuzzi in Rome, and performed in Repertorio All'Antico.
In 2001 he appeared in the Soulpepper Theatre Company productions of A Flea in Her Ear (Dora Mavor Moore Award nomination for supporting actor), La Ronde and The Lesson (Dora Award for best actor). In 2002, he appeared as Leontes in Soulpepper's A Winter's Tale, and as Jean in Miss Julie. Of his performance in A Flea in Her Ear, Christopher Hoile wrote, "Most forceful of all is Tony Nardi... He knows that the best way to make a farce funny is to show that a character views the action with the utmost seriousness" (Stage Door).
In 2010, Nardi appeared at the Segal Centre for Performing Arts playing Eddie Carbone in A View from the Bridge.
Tony Nardi has also written for theatre as well as directed and produced. His first play, La Storia dell''Emigrante (on which Vincent Ierfino collaborated) written mainly in Calabrian, was presented at the Ontario Multicultural Theatre Festival at Harbourfront in 1982, winning the 1st James Buller Award for Best Original Canadian play. Scenes from the play were filmed for Paul Tana's 1985 docudrama Café Italia, Montreal.
His second play, A Modo Suo, A Fable ("Each in his/her own way"), about an Italian-Canadian family living in Montreal struggling with its past, present and future, was mounted in Toronto in 1990 at Canadian Stage's Berkeley Street theatre and nominated for a Dora Award (Outstanding New Play). It was published in its entirety in the Fall 2000 issue of the Canadian Theatre Review.
His series of monologues, Two Letters...And Counting! that decry the moribund state of Canadian theatre, film and television have aroused considerable controversy: Two Letters is based on two actual letters sent to "middle-men" of the Canadian cultural scene: a film/television producer and two theatre critics. Letter One articulates an actor/writer's struggle with cultural stereotypes in Canadian theatre/film/TV. Letter Two challenges misconceptions about commedia dell'arte by present-day theatre critics and directors. It explores a history of an 'actor-less' theatre culture in Canada at the hands of 'director's theatre', in which, increasingly, a tradition of over-trained actors and under-trained directors is encouraged. ...And Counting! (Letter Three) is a postmortem of Two Letters, and a journey into the present state of theatre, culture, and funding. (www.twoletters.ca).
Two Letters…And Counting! were presented together or separately in many spaces across Toronto from 2006 to 2008, including the Factory Theatre's 2008 Performance Spring Festival of Groundbreaking Presentations. …And Counting! (Letter Three) was presented at Acadia University and at Mount Saint Vincent University (both in 2007). In 2008, Letter One was presented at UQAM in Montreal and Letter Two and …And Counting! were presented at McGill. Letter Two was presented in 2009 at Espace Libre in Montreal (in English). Letter Three was presented at the 2010 Festival TransAmériques.
In 2011 Letter Two was presented in Timisoara, Romania at the Festival of New Romanian Drama - European Festival of Performing Arts. Nardi was also part of the 3-member Jury for the selection of the Best Romanian Theatre production at the Festival.
Two Letters...And Counting was filmed in front of a live audience in 2008 and 2009. Letter One has screened Les Rendez-Vous Du Cinéma Québécois in 2011, and at the Italian Contemporary Film Festival (at TIFF) in Toronto in 2012. The collection was published by Guernica Editions in 2013.
Two Letters received a Dora Award Nomination for Outstanding play in 2007. In 2008 Nardi received a Siminovitch Prize in Theatre (long list) Nomination for playwriting.
Nardi also works extensively in film and television.
He is currently a Ph.D. student at the University of Toronto. The working title of his thesis is "Performing (in) the Multicultural Melting Pot (The impact of diverse cultures on actor training and performances in Canadian theatre, film and television)"
Website: https://tonynardi.com>/p>
Last updated 2021-06-22