Nichol, James W.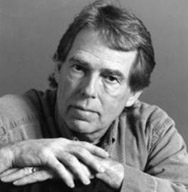 James W. Nichol
Playwright and novelist, born in 1940 in Paris, Ontario, the author of fifty radio dramas, ten television scripts, and twelve plays that have been produced across Canada.
His adaptation of Margaret Laurence's Stone Angel received very favourable reviews when it was performed at the Blyth Festival (1994), and in its subsequent productions at Centaur Theatre and Neptune Theatre (both 1995). Centaur Theatre won the award for Best Anglophone production at the 1996 Masques Awards with the play.
Dr. Jeckyll and Mr. Hyde: A Love Story was presented at the Manitoba Theatre Centre, Canadian Stage, Theatre Calgary, and the Vancouver Playhouse in the 1995-96 season.
His other plays include: Tub (1969), Sweet Home Sweet (1972), The Book of Solomon Spring (1972), The House on Chestnut Street (Theatre Calgary 1972), Sainte-Marie Among the Hurons (National Arts Centre 1977),Gwendoline (Blyth Festival 1978), Child (Blyth 1979), Sonny (Belfry Theatre 1982), Relative Strangers (Theatre London 1983), When I Wake (Magnus Theatre 1984), The Three True Loves of Jasmine Hoover (Magnus 1986).
In 2002, he published his first novel, Midnight Cab, based on a popular thirty-five-episode radio drama that he wrote for the CBC. Midnight Cab features two very different characters: nineteen-year-old Walter Devereaux, abandoned by his mother at the age of three, and searching for his roots; and psychopath Bobby Nuremborski. Nichol won the 2003 Arthur Ellis Award for best first crime novel.
His plays focus on psychological conundrums and obsessions, hauntings from the past, and repressive environments.
Nichol was the Vice-President of Playwrights Guild of Canada, and playwright-in-residence at the National Arts Centre.
He lives in Stratford, Ontario.
Profile by Gaetan Charlebois. Updated by Anne Nothof.
Last updated 2021-07-12