Pankanea, Joelysa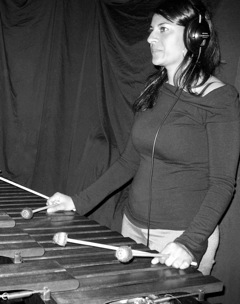 Joelysa Pankanea
Composer, sound designer, and performer for theatre, based in Vancouver, British Columbia, specializing in original scores and live music. She was born in 1977 in Richmond, B.C., grew up in Kenya (where her family is from), and moved back to Canada when she was ten.
Joelysa Pankanea has a diploma from Vancouver Community College, and studied for two years at Simon Fraser Univerity, majoring in composition, with a focus on world music, jazz and classical. For the past two decades, she has been composing, directing and performing her original scores for the theatre, and more recently for film and animation. As a percussionist, she has performed live in all of Vancouver's largest houses, various alternative venues across Canada, and several international festivals.
Pankanea has composed and performed in the musical adaptations of classic works (by director James Fagan Tait): Crime and Punishment (2004,Neworld Theatre/PuSh International Performing Arts Festival/VMT at the Roundhouse); Vasily the Luckless (2005, Boca del Lupo at Stanley Park); A Christmas Carol (2006, Vancouver Playhouse); Timon of Athens (2007, Bard on the Beach); Old Goriot (2007, Western Gold/PuSh at the Chan Centre); King Lear (2008, Bard on the Beach); Cyrano de Bergerac (2008, Arts Club Theatre at the Stanley Industrial Alliance Stage); The Life Inside (2010, Belfry Theatre).
She has created original scores for: The Perfectionist (2006, Boca del Lupo, toured Vancouver, Edmonton and Toronto); The Glass Menagerie (2007, Arts Club Theatre at the Stanley); Bashir Lazhar (2009, Pi Theatre); Écran de Fumée (2009, Théâtre la Seizième); mixie and the halfbreeds (2009, Neworld Theatre); Podplays (2011, Neworld Theatre/PuSh, site specific).
More recently, she was composer/musical director for Electric Company Theatre's world premiere of Carmen Aguirre's Anywhere But Here; and the Arts Club's production of Carried Away on the Crest of a Wave by David Yee.
She has won four Jessie Richardson Awards for outstanding composition.
Colin Thomas has written in The Georgia Straight that "Pankanea's music is deceptively, stealthily simple; its repetitions become haunting; its big deep chords sink into you."
Website: www.joelysa.com
Last updated 2021-07-19