Plummer, Christopher
Internationally recognized stage and screen actor born in Toronto, Ontario in 1929; died February 5, 2021 at the age of 91 at his home in Connecticut, USA. Christopher Plummer was the great-grandson of the first Canadian Prime Minister born in Canada, Sir John Abbott. His parents separated when he was an infant, and he was raised in a cultured home in Montreal by his mother and his aunts. He was exposed to opera, ballet and theatre but, when he could, prowled Montreal's clubs where he saw the great acts of the day, such as Sinatra and Piaf, perform. He acted in high school and received his first favourable notice from Herbert Whittaker in 1946 for his portrayal of Mr. Darcy in Pride and Prejudice (Montreal High School). He was an apprentice with the Montreal Repertory Theatre, where he played Oedipus in Cocteau's La Machine infernale at the age of eighteen. He then worked with Ottawa's Stage Society, and in Brae Manor Playhouse in Sheridan's The Rivals. He honed his acting skills in CBC radio drama, under the direction of Andrew Allan.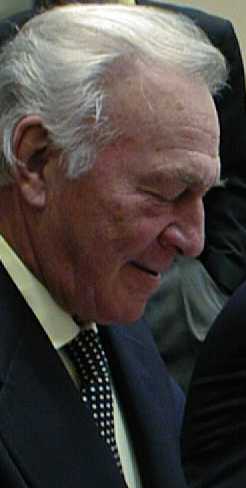 Christopher Plummer (November, 1999; photo: GLC)
Plummer then joined a repertory theatre company in Bermuda for a season, performing with Kate Reid and Barbara Hamilton. He subsequently toured with companies across the US, and acted in TV soap operas in New York in the 1950s.
Though he auditioned for Tyrone Guthrie for the Stratford Festival's first season, he was not accepted. He went to New York in 1954 and worked on Broadway before being invited by Stratford's new artistic director, Michael Langham, to take on the title role in Henry V. He performed with the Company for a total of eleven seasons, including leads in Hamlet (at the inaugural production of the company's Festival Theatre in 1957); Antony and Cleopatra (opposite Zoe Caldwell); Macbeth (opposite Kate Reid); Cyrano de Bergerac; King Lear (2002, dir Jonathan Miller, remounted in the Lincoln Centre, New York); a highly acclaimed reprise of Caesar and Cleopatra (2008); and The Tempest (2010). In 2011, he was awarded a Lifetime Achievement Award by the Stratford Festival.
He also performed in London both at the National Theatre under Laurence Olivier and for the Royal Shakespeare Company under Peter Hall.
His many performances in the US include that of Cyrano in the musical of the same name, for which he won a Tony award in 1974. In 1981, he turned in a stunning Iago to James Earl Jones' Othello. New York Times critic, Frank Rich, in his anthology Hot Seat, calls Plummer's acting in the work one of the twenty indelible performances he had seen during his career with the paper.
Plummer starred in shows about Stephen Leacock and John Barrymore. He first performed Barrymore by William Luce at Stratford in 1996 to great acclaim, and he was awarded a Tony for best actor in 1997 for his Broadway performance. He reprised the role in January 2011 in Toronto's Elgin and Winter Garden Theatre Centre at the age of 81. This performance was skilfully adapted as a film by director Erik Canuel, and opened across Canada in 2012.
Plummer appeared in over a hundred films and on television, including the role of Baron von Trapp in the movie The Sound of Music (1965), a film he claimed to despise, but which he later came to value as "the very best of its genre--warm, touching, joyous and absolutely timeless" (In Spite of Myself, p. 408). More recent films include The Insider (1999); Emotional Arithmetic (2007), based on a novel by Canadian author, Matt Cohen; The Imaginarium of Doctor Parnassus (2009); The Last Station (2009), in which he played Russian author Leo Tolstoy (Oscar nomination for Best Actor); and Beginners (2011), for which he was awarded an Oscar for Best Supporting Actor in 2012. In 2015, he starred in Remember as an expat German, suffering from dementia, who attempts to locate and kill the Nazi responsible for the deaths of his friend's family. He played the idiosyncrasies of the deposed 82-year-old Kaiser Wilhelm II very convincingly in The Exception (2016). For his role as a villainous J. Paul Getty in All the Money in the World (2017), he was was nominated for a Golden Globe Award.
Despite his continuing success in film, Plummer has stated that his most constant love is the theatre: "The theatre has given me the most joy professionally, because of the live audience. I think it's desperately important to form a communion with your audience. That's your partner. Though I admire and take pleasure in movies, they can't replace the stage. Because it's our medium, the actors' and writers' (The Globe and Mail, 26 Jan 2010): R5).
He is a Companion of the Order of Canada, and in 2001, received a Governor Generalís Award for Lifetime Achievement in the Arts. In March 2017, he was honoured for Lifetime Achievement by the Canadian Screen Awards. In his witty acceptance speech, he remarked: "Never be ashamed of making a fool of yourself. Just enjoy it all, have fun. I've spent almost 70 years making a fool of myself in this crazy, mad profession of ours, and I've had the time of my life."
His controversial, frank, and iconoclastic autobiography, In Spite of Myself: A Memoir was published in 2008.
He lived with his third wife, Elaine Taylor on a 30-acre estate in Weston, Connecticut. Although he spent most of his time in the United States, he remained a Canadian citizen.
Profile by Gaetan Charlebois and Anne Nothof
Last updated 2021-02-09