Stickland, Eugene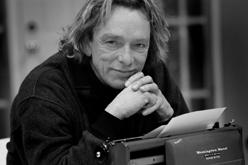 Eugene Stickland
Playwright born in Regina, Saskatchewan in 1956. He studied theatre at York University, graduating with a Masters in Fine Arts. In Toronto he worked at Act IV Theatre Company, which premiered several of his early plays: Darkness on the Edge of Town (1987, dir. DD Kugler); Quartet (1985, dir. Jennifer Stein, Mark Owen, Keith Kemps, Larry Lewis); The Family, (1984, dir. Lewis). In 1989 he returned to Regina and co-founded Laughing Dog Theatre.
Since 1989 Stickland has lived in Calgary, where he was playwright-in-residence at Alberta Theatre Projects until 2004. During this time, Eugene looked after the educational programming at ATP, including the Student Writers Group and the Theatreblitz! Festival, and was the Canadian delegate to the World Interplay Festival for young playwrights in Australia.
Many of his plays have premiered at the ATP playRites Festival: Some Assembly Required (1994, dir. DD Kugler) has been produced more than thirty times. It has been translated (as Noël de force) and was part of the 1999-2000 season of the Compagnie Jean-Duceppe. It was a finalist for the Governor General's Award in 1995.
A Guide to Mourning (1998, playRites, dir. Bob White) was produced in 1999 at the Belfry Theatre, in 2000 at Theatre Network, and in 2001 for the regular season of ATP, and it has had seven more subsequent productions. It was awarded the Betty Mitchell Award for Best New Play.
Other ATP premieres include Sitting on Paradise (1996, dir. White); Appetite (2000); Midlife (2002); and All Clear (2004). Excavations premiered at Theatre Network in 2002 and won the 1995 Alberta Playwriting Award.
A full-length version of his one-act play, Closer and Closer Apart, a study of Alzheimer disease, which premiered in 1999 at Lunchbox Theatre, opened at Theatre Network in Edmonton in 2007 season. His "unabashed comedy," Writer's Block opened at Calgary's Ground Zero Theatre in 2008 (dir. Bob White). Writer's Block is a comedy about an financially-challenged playwright-in-residence at a large Canadian theatre company, who files a claim for workers' compensation with the theatre's insurance company on the grounds that he has writer's block. Then he is inspired to write a play.
The Urban Curvz production of his two-hander with cello, Queen Lear opened at Calgary's Joyce Doolittle Theatre in the Pumphouse in February, 2009. It was written as an 80th birthday present for Joyce Doolittle, who undertook the lead role. The play has been translated into Turkish, and has played in Istanbul and Cypress.
The Innocence of Trees, commissioned by Theatre Network, premiered at the Roxy in Edmonton on November 24, 2022. Maralyn Ryan enacted the Canadian abstract painter Agnes Martin, and her granddaughter Emma Ryan played the young painter. They were accompanied by a live cello performance by Morag Northey (dir.Bradley Moss). An exhibition featuring the work of Agnes Martin was on view in the lobby gallery.
Published plays include: A Guide to Mourning and Sitting on Paradise: Two Plays by Eugene Stickland, Red Deer Press, 1998; Some Assembly Required, Broadview Press. 2002; Midlife, Broadview Press, 2002; Writer's Block, B House Publication. 2008; Queen Lear, B House Publications. 2009. In August 2015, he published his first novel, The Piano Teacher (B House Publications, 2015), which explores the creative life of a pianist, written in first-person diary form. No Harm Done: Three Plays About Medical Conditions was published by Durville & UpRoute Books in 2021.
He was awarded the City of Calgary W.O. Mitchell Book Prize for his novel in September 2016.
Stickland's plays are typically characterized by black humour and an absurdist philosophy. They often consider the farcical conundrums of dysfunctional families, failed relationships, and endgame scenarios, and satirize the materialist, corporate culture of Alberta.
He is also a teacher and mentor. He was appointed writer-in-residence at St. Mary's University College in Calgary, and has led playwriting workshops across the country and internationally. For five years he wrote a column on the Calgary arts scene for The Calgary Herald.
Website: https://eugenestickland.com
Profile by Anne Nothof, Athabasca University
Last updated 2023-04-26