Aquino, Nina Lee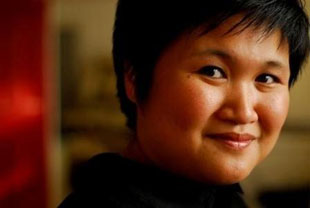 Nina Lee Aquino
Filipina-Canadian playwright, director, dramaturg, and actor, based in Toronto Ontario. Her uncle, Benigno S. Aquino, was the chief opposition leader in the Philippines during martial law in the 1970s under the dictatorship of Ferdinand Marcos, and was assassinated in 1983 on the tarmac of the Manila International Airport. Nina Lee Aquino believes that coming from a long line of revolutionaries has influenced her sense of a leadership that encourages change.
She completed a Bachelor of Arts in drama at the University of Guelph and a Master of Arts in theatre at the Drama Centre, University of Toronto. One of her mentors was Judith Thompson, who encouraged her to direct a production of Mother Tongue by Amy Tan, and to pursue a career in directing to open doors for a diversity of productions and performers. She subsequently worked for Native Earth Performing Arts and Young Peopleís Theatre; and was a founding member and Artistic Director of fu-GEN Asian-Canadian Theatre Company (2002-09). From 2009 to 2012 she was Artistic Director of Cahoots Theatre Projects.
As Associate Artistic Director of Factory Theatre, she was Producer of the CrossCurrents Festival. In September 2012, she was appointed a member of an interim artistic team with Nigel Shawn Williams at Factory Theatre, and navigated three contentious years which included a boycott of the theatre. From 2014 to 2022, she was the Artistic Director, "pivoting" from live productions to on-line performances for two years during the 2019-21 Covid-19 pandemic which closed theatre across Canada and around the world.
During her tenure, Factory launched world and Toronto premiere productions form from playwrights David Yee, Anusree Roy, Marjorie Chan, Yvette Nolan, Kat Sandler, and Jeff Ho. Her many directing projects at Factory included School Girls; or, the African Mean Girls Play by Jocelyn Bioh, a co-production by Nightwood Theatre and Obsidian Theatre Company (2019).
In January 2022, she was appointed Artistic Director of English theatre at the National Arts Centre, her tenure beginning in August 2022. She is intrigued by "What it means to be a national theatre company in a post-national world" (quoted in J. Kelly Nestruck. www.theglobeandmail.com/arts/theatre-and-performance, 6 Jan 2022).
With Nadine Villasin, she co-wrote Miss Orient(ed) (Carlos Bulosan Theatre 2003, directed by Guillermo Verdecchia), a comedy about a beauty pageant set in the Philippines, which satirizes the idealization of Western standards of attractiveness. In January 2013, her examination of her own family history and the violent politics of the Philippines, Every Letter Counts opened at Factory Theatre (dir. Nigel Shawn Williams).
Her monologues have been published in Beyond the Pale (ed.Yvette Nolan) and She Speaks (ed. Judith Thompson). She is the editor of Canada's first Asian-Canadian drama anthology, Love and Relationships Vols 1 and 2 (Playwrights Canada Press, 2009).
In 2010, she organized the first conference on Asian-Canadian theatre, which included scholars and theatre practitioners from across Canada and the U.S. In 2011 she co-edited with Ric Knowles the proceedings of that conference: Asian Canadian Theatre for the series New Essays on Canadian Theatre, published by Playwrights Canada Press.
Nina Lee Aquino is committed to the development of new works, and to the artistic expression of interculturalism in theatre.
She is the recipient of the Ken McDougall Award for directing (2004), the Canada Council John Hirsch Prize (2008), and awarded three Dora Mavor Moore Awards for Outstanding Direction, for paper series by David Yee (Cahoots, 2011); Sultanís of the Street (2014), and School Girls; Or, The African Mean Girls Play (Obsidian Theatre Company in association with Nightwood Theatre, 2019).
She was President of the Professional Association of Canadian Theatres/PACT. Recently, she was appointed to the faculty of York University's Department of Theatre as Adjunct Professor. She is married to actor, sound designer, and fight director, Richard Lee, and has one daughter.
Profile by Anne Nothof, Athabasca University
Last updated 2022-05-28