Chioran, Juan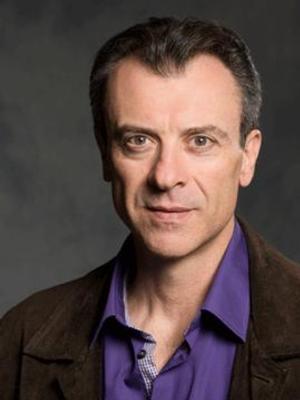 Juan Chioran
Actor and singer, born in Argentina, 18 June 1963. Juan Chioran is noted for his performances in musical theatre at the Stratford Festival for thirteen years (1993-2-12), including leads in the The Mikado (1993), Man of La Mancha (1998), and Dracula (1999). For Shaw Festival, he was the Emcee in Cabaret (2014). He performed the lead in the Garth Drabinsky touring production of Kiss of the Spider Woman.
Chioran has also played in a wide range of straight plays, notably in Richard Monette's production of A Midsummer Night's Dream, Jeannette Lambermont's production of As You Like It and Joseph Ziegler's Hamlet, opposite Paul Gross (both in 2000 at Stratford); The Winter's Tale, Timon of Athens, Knight of the Burning Pestle, Twelfth Night (all for Stratford); An Ideal Husband (Citadel Theatre); The War of the Roses (Canadian Stage); and Hedda Gabler (Manitoba Theatre Centre), among many others.
He appeared in the Canadian Stage production of Goodnight Desdemona (Good Morning Juliet) (April, 2001) and the Soulpepper Theatre Company production of Present Laughter (July, 2001). In 2014, he performed in The Motherf**with the Hat at Coal Mine Theatre, Toronto.
He has also performed in film, television and opera, and as a voice actor in 25 roles.
He has said of his acting style: "As I come from a classical background, I respect the text and mine it like a musical score... what is allegrando, lento, largo, pianissimo,fortissimo ... all the different markings. They are there, although they are not written. You have to mine for them and the various antitheses, alliteration and similes. I approach all my scripts that way, to see what clues the author is giving me to find what life is there. As actors, we have to learn to extract them" (www.broadwayworld.com).
Profile by Gaetan Charlebois. Information provided by Lindy Cooksey and Dena Smith; additional information by Joel Greenberg and Pierre Karch.
Profile by Gaetan Charlebois
Last updated 2020-10-30