Esdale, Jennie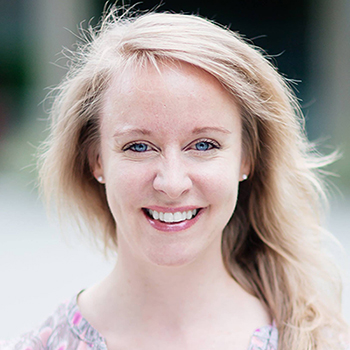 Jennie Esdale
Writer, director, actor and theatre maker, Jennie Esdale is Co-Artistic Director of Green Fools Theatre in Calgary, which creates, performs and teaches innovative puppetry, mask, clown, stilts and circus arts.
She is also Program Director of ODE (Outreach/ Development/ Education) at Theatre Aquarius, and has recently been Artist in Residence of the Michael Wright Gallery.
Esdale attended Victoria Composite High School in Edmonton, and since her teens, she has worked professionally as an actor, performing with several leading and indie theatre companies including the National Arts Centre, Theatre Calgary, Alberta Theatre Projects, Citadel Theatre, Manitoba Theatre Centre, Ghost River Theatre, The Only Animal, Mammalian Diving Reflex, Teatro La Quindicina, Shadow Theatre, Generic Theatre and Sage Theatre.
For two years, she studied Art & Design at the University of Alberta, majoring in painting, then trained in clowning, physical theatre, puppetry and mask with Green Fools. Her works and collaborations have been presented in Canada, the US, Brazil and Japan.
Esdale was nominated for Edmonton's Elizabeth Sterling Hayne's Award for Outstanding Achievement in Theatre for Young Audiences for her work in Night Light, and nominated for Calgary's Betty Mitchell Award for her performance in Lion in the Streets. She received a Betty Mitchell Award for Outstanding Performance for developing and performing solo the role of a 10-year-old boy, in the debut production of Confessions of a Paperboy by Doug Curtis. She was nominated for Betty Mitchell Awards for Outstanding New Play for Floating Mouse, and for Elephant Song (2013), a puppet play without words accompanied by South Asian music, which tells the story of two sisters who get separated during the fall of Saigon in 1975 during the last days of America's involvement in the Vietnamese War. One sister immigrates to Canada, while the other runs an elephant sanctuary in Thailand.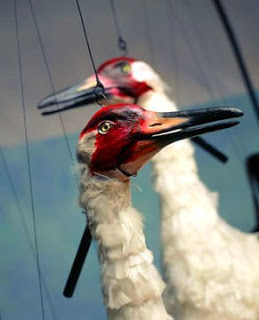 Project Whooping Crane. Photo by Sean Dennie
The Floating Mouse (Banff Centre for the Arts) and Isis & Osiris: A Shadow Opera were nominated for Betty Mitchell Awards for Outstanding Production of a Musical. Esdale is also the co-recipient of an Elizabeth Sterling Haynes Award for Outstanding Achievement in Theatre for Young Audiences for the collaboratively created Project: Whooping Crane, which has toured internationally. A puppet play without words with an ecological focus, it combines musical compositions and crane sounds.
Jennie Esdale is a member of the Playwrights Guild of Canada and the Canadian Actors Equity Association.
She is married to film and stage actor, Shaun Smyth. They have two girls, Margaret and Iona.
Last updated 2017-03-28