Gay and Lesbian Theatre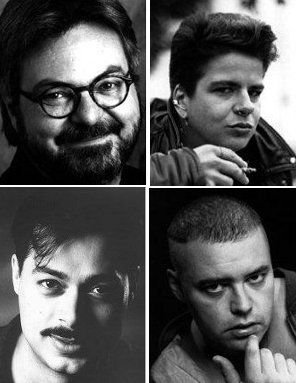 Although consensual relationships between members of the same sex were not rendered officially legal in this country until 1968, there had been depictions of Gays and Lesbians in the theatre prior to this.
Though the most famous of them is probably John Herbert's prison drama Fortune and Men's Eyes, academics have turned up material, some of it of a "religious" nature that suggests that homosexuality and the theatre have not been strangers to each other.
The earliest is probably the case of Jonathas et David by Fr. Brumoy which played in Montreal in 1776 and was the first or second book published in the young colony. Adapted from the Biblical tale of the friendship between Jonathan and David (now sometimes interpreted to be more than platonic), it includes the typical proclamations of love between the protagonists. The priest who wrote the piece published in his prologue the warning that the play was a matter of: "Tender friendship, holy friendship and not of [that friendship] which resides in the hearts of those who are slaves of crime." The era was rife with plays of this nature but not all preceded by a prologue like this one.
In the twentieth century (1920), Julien Daoust's religious work, Le Triomphe de la croix shows two Christians in their cell awaiting martyrdom, a man and a woman. The man asks the woman what gives her the strength to resist. She replies, "My guardian angel," whom she goes on to describe in near-erotic detail. In response to criticism of the play, the young woman was changed into a man who went on to describe his (male) guardian angel in near-erotic detail!
With the Quiet Revolution, Quebec theatre began to liberate itself from Catholic morality. Paul Toupin in his Brutus (Salle du Gésu, 1952), in a scene between Brutus and Caesar, has erotic descriptions that remain determinedly gender-unspecific with Caesar saying, "You know the malicious song they sing that I am the husband of all women and the wife of all husbands."
With the changing of the law, however, all things changed. Theatre came out and, more importantly, so did the playwrights. Perhaps the most-produced playwright in Canada, Michel Tremblay, reportedly came out quite publicly in a television interview as early as 1971. His early plays, Hosanna and Duchesse de Langeais are both tales of Gay transvestites, as well as political metaphors.
Canada now has an extensive list of playwrights who open out their sexual identity: Ronnie Burkett, Tomson Highway, Daniel MacIvor, Steve Galluccio, Sky Gilbert, Marie-Claire Blais, Michel Marc Bouchard, Brad Fraser, Gaëtan Charlebois, David Gobeil Taylor, Linda Chenthe, and the late Maxim Mazumdar. Emerging as voices of the transgendered are Alec Butler and Mohawk artist Aiyyana Maracle.
Currently, there is a wide variety of experience and artistic approaches, and subjects inherent in the movement. It need no longer rely solely on Gay and Lesbian theatres (like Buddies in Bad Times), or Feminist theatre companies sympathetic to Lesbian issues (like Nightwood Theatre). The mainstream theatre, a little more each year, is embracing theatre with Gay and Lesbian themes. Sometimes the move forward is furiously parsed by Gays and Lesbians, like for the various performances of [straight] Vivienne Laxdal's Karla and Grif which many Gays and Lesbians found offensive for its stereotypical Lesbian characters and others found refreshing for its depiction of the fluidity of sexuality - a subject hotly debated in the community; or the works of Brad Fraser, which are sometimes denounced as monstrous depictions. Sometimes works are simply accepted into the literary history of both straight and Queer communities (like the works of Tremblay or Bouchard, which are staples of the Quebec repertory). Moreover, some "straight" companies, like Workshop West, stage events like their Loud 'N Queer Cabaret to celebrate Queer culture.
Perhaps part of the acceptance of Gay and Lesbian theatre is the urgency (and yet the clarity) with which it is written. It is hard to determine exactly what effect the AIDS pandemic has had on writers in Canada, but it is clear that the disease has hit the theatre community especially hard. Many theatre artists (Mazumdar and Tommy Sexton to name just two) have died, and perhaps that is bringing Gays and Lesbians and their concerns into focus, and encouraging an openness in the theatres that was not there before. One sign of this is the many Canadian productions in 1996-97 of American Tony Kushner's Angels in America (subtitled "A Gay Fantasia on National Themes") which treats the issue of AIDS very directly.
Commentary by Gaetan Charlebois. Additional information provided by Morag Carnie, Frank Moher, and Anton Wagner.
Last updated 2013-04-21