Libman, Daniel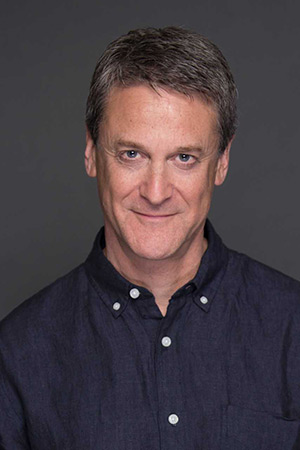 Daniel Libman
Playwright, director and actor Daniel Libman was born and raised in Montreal, Quebec and now lives in Calgary. His plays have been produced in theatres across North America: Cecil and CleopaYtra has been produced at the Lunchbox Theatre, Calgary (1985); at the Citadel Theatre, Edmonton (1989); at Theatre Aquarius, Hamilton (1989); at the Grand Theatre, London (1990) - directed by Martha Henry; at Alberta Theatre Projects, Calgary (1991); the New Bastion Theatre, Victoria (1992); the Winnipeg Jewish Theatre (1997); the New Jewish Theatre, St. Louis (2001); JTP, Pittsburgh (2005); and Persephone Theatre, Saskatoon (2006).
His other plays include Cote Saint Joe, produced at Persephone Theatre, Saskatoon (2000), and the Winnipeg Jewish Theatre (2000) (directed by Richard Rose); Veronia (Quest Theatre, Calgary, 1996); Closing Time (Workshop West Theatre, Edmonton, 1986); Brainiac (Quest Theatre, 1989 and Carriage House Theatre, Cardston, 1991); Talent of the Host Country (Lunchbox Theatre, 1988); If I'd Been There ... (Chinook Theatre, Edmonton, 1990 and Limestone Teachers' Theatre, Kingston 2005); Patchwork (Lunchbox Theatre, 1986); Your Turn to Get Up (Workshop West, 1985); and The Premature Death of Art (Edmonton International Fringe Festival, 1987).
In 2001 he was one of the contributors to Cock Tales (Ground Zero Theatre's response to its hit production of the Vagina Monologues in Calgary). He has also completed a number of musicals (written with composer Allan Rae), including Land Beyond the Forest, Raven's Garden, and Celtic Harp (commissioned in 1995 by the Charlottetown Festival).
Libman's translation of Anne Legault's O'Neill was produced in New York in 2000, and his translation of Legault's Alma and Mrs. Woolf opened in 2003, both at Blue Heron Theatre. His play, BACKSTAGE/Front-of-House had a public reading in New York in the fall of 2006, and another in 2015. His play Intermission premiered in 2014 at the Clurman Theatre, Theatre Row in the Times Square Theatre District, NYC, produced by Voyage Theater to wide critical praise.
As an actor, Libman has performed with almost all of the theatre companies in Alberta, and in many other theatres across the country. He also acts regularly in film and TV, and had a supporting role in the Jon Voight film September Dawn (2007). He co-wrote and co-directed the indie film Burned, which has been screened and won awards at film festivals in Italy, Thailand, Norway and Romania, and is nominated for four AMPIA Awards in 2018.
Libman was Playwright-in-Residence and Associate Dramaturge at Alberta Theatre Projects (1989-94), and part of the playmaking ensemble with Brad Fraser at Workshop West (1985-86).
He has been dramaturg for Calgary's "Shakespeare in the Park," and an instructor at Mount Royal University and the University of Calgary.
He has operated Calgary Actors' Studio for nine years (calgaryactorsstudio.com), a preparatory program for conservatory training in schools such as National Theatre School of Canada, Langara – Studio58, and Ryerson, as well as providing classes for adults.
Besides film festival awards, he is a past winner of a Tyrone Guthrie Award (Stratford Festival), and the Alberta Culture Playwriting Competition.
Last updated 2018-06-05