Mongeau, Stéphane
Stéphane Mongeau
Quebec-based lighting designer and technical director. Stéphane Mongeau studied Arts & Communications at College Jean-de-Brébeuf (1981-1983), and at Ecole Nationale de Théâtre du Canada (1985-1988).
He has lit many important productions including Denys Arcand's The Decline of the American Empire and Arcand's theatrical directorial début Les lettres de la religieuses Portugaise (1990); Judith Thompson's Lion dans les rues/Lion in the Streets (1991); Jean-François Caron's Aux Hommes de bonne volonté (1993); Brad Fraser's L'Homme laid/The Ugly Man (1993) and Poor Super Man (1995), all at the Théâtre de Quat'Sous. He also lit Tomson Highway's Les reines de la réserve/The Rez Sisters for the Théâtre Populaire du Québec, as well as Denis Marleau's award-winning production of Maîtres anciens for Théâtre Ubu (1995), and the mega-revival of Michel Tremblay and François Dompierre's musical Demain matin, Montréal m'attend (1995, directed by Denise Filiatrault). In 1999, he lit the revival of Michel Tremblay's Le vrai monde? for the Théâtre du Rideau Vert, as well as the company's 2000 production of Les chaises/The Chairs.
Mongeau also designs for rock concerts and opera. From 2000 to 2012, he managed the theatre design and technical departments for Cirque du Soleil. In 2018, he joined forces with Cirque founder, Guy Laliberté to form Lune Rouge Entertainment, which produced a light and laser show in Dubai, entitled Talisman; in 2019, Lune Rouge produced a multi-media extravaganza in a large Pyramid located in the Old Port of Montreal, entitled Through the Echoes.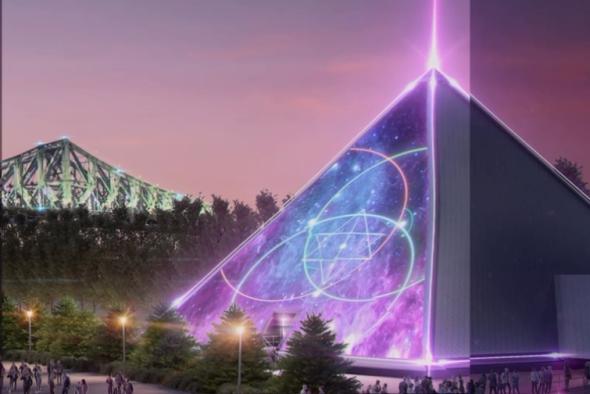 Production photo of Through the Echoes, PY1, Montreal.
Profile by Gaetan Charlebois. Updated by Anne Nothof.
Last updated 2021-06-11