Murrell, John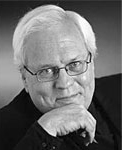 John Murrell
Playwright, librettist and translator, John Murrell was born in 1945 in Lubbock, Texas, died on November 11, 2019 of leukaemia in Calgary, Alberta. He completed a BFA degree at Southwestern University in Texas, and came to Canada in 1968 with his wife, Cindy Galbreath. He graduated from the University of Calgary with an education degree, and began writing plays while teaching in Alberta's public schools. His second play, Power in the Blood (1975), about a female evangelist experiencing a life crisis, won the University of Alberta's Clifford E. Lee playwriting award, encouraging Murrell to write full-time.
In 1975, he became playwright-in-residence for Alberta Theatre Projects, where several of his plays premiered, including Waiting for the Parade in 1977 at the Canmore Opera House in Heritage Park, Calgary. Focusing on the lives of five women in Calgary during World War II, Waiting for the Parade has been produced many times at theatres in Canada and abroad, including the Tarragon Theatre, Toronto in 1979, where it won the Chalmer's Awards; the Grand Theatre, London in 1983, directed by Robin Phillips; and at the Shaw Festival in 2004, directed by Linda Moore. In 2016, it was again produced by Alberta Theatre Projects (dir. Kate Newby), with five women of different races in the cast, to celebrate the fiftieth anniversary of the play.
Memoir (a two-hander about the final days of legendary French actress Sarah Bernhardt) premiered at the Guelph Spring Festival in 1977, and then toured internationally. It has been produced throughout Canada, the USA, in South America, and Japan, and ran for more than three years in Paris in the 1980s. It enjoyed a successful revival in Paris at the Théâtre Edouard VII in the fall of 2003.
Subsequent plays also focus on famous cultural figures of the nineteenth and twentieth centuries, including October (1988) featuring Eleonora Duse and Isadora Duncan; Democracy (Citadel Theatre 1992, dir. Robin Phillips), about a meeting between poet Walt Whitman and philosopher/poet Ralph Waldo Emerson during the American Civil War; and The Faraway Nearby, about painter and feminist icon Georgia O'Keeffe. In winter 1998-1999, The Faraway Nearby was produced at Washington D.C.'s Arena Stage.
Other plays reflect his continuing interest in the history of western Canada, including Farther West (Theatre Calgary 1982, dir. Robin Phillips, with Martha Henry as May Buchanan), which dramatizes a prairie prostitute's catastrophic search for absolute freedom. New World(1984), is set on Vancouver Island, with allusions to The Tempest. Its premiere at the National Arts Centre, Ottawa was also directed by Robin Phillips. It was remounted at the Tarragon in 1997.
Farther West and Waiting for the Parade were filmed for Canadian television (Murrell wrote both screenplays). Both Farther West, and the The Faraway Nearby were honoured with Chalmers Best Canadian Play Awards; and Democracy received the Canadian Authors Association's and the Writers Guild of Alberta's Best Play Awards in 1992.
Murrell's play Death in New Orleans, was premiered by Calgary's One Yellow Rabbit at Edinburgh's Traverse Theatre during the 1998 International Festival Of The Arts, and won a Fringe First Award for Outstanding New Writing. His dramatic adaptation of The Odyssey was first performed as part of the Banff Arts Festival 2001, and was remounted by Manitoba Theatre for Young People in Winnipeg, where it garnered both critical and popular acclaim.
In 2012, his play Taking Shakespeare was produced by One Yellow Rabbit (dir. Blake Brooker), with Murrell and Denise Clarke as a professor and his disaffected student, whose lives are changed as they make their way through Shakespeare's texts. In 2013 Taking Shakespeare played at the Stratford Festival with Martha Henry as the Prof (dir. Diana Leblanc). He also acted in two more plays, written for One Yellow Rabbit: as Falstaff inFat Jack Falstaff's Last Hour (2016), and in Live in Your Prime with Damien Frost (2019).
Murrell's knowledge of Italian and French resulted in several translations of plays, including Machiavelli's Mandragola (Theatre Calgary 1978), Racine's Bajazet (Tarragon Theatre 1979), Sardou's Divorcons (Theatre Calgary 1983); Carole Fréchette's The Four Lives of Marie (Tarragon 1996), The Small Room at the Top of the Stairs (Tarragon 2012); Thinking of Yu (Alberta Theatre Projects 2012); and Napoli Milionaria! (Stratford Festival 2018). His love for Chekhov's plays is reflected in his translations of Uncle Vanya (1978), The Seagull (1980), and The Cherry Orchard (1998), all produced at the Stratford Festival. He has also translated Ibsen's The Master Builder (Tarragon 1983), and Sophocles' Oedipus the King (Stratford 1988).
In the summer of 2004, Murrell was the first Canadian playwright to be included in the seasons of both the Shaw Festival (Waiting For The Parade) and the Stratford Festival (a new translation of Jean Cocteau's The Human Voice).
Murrell had a passionate love of opera, and wrote librettos for four new works. Filumena, with music by John Estacio, tells the story of a young Italian woman embroiled in rumrunning in the Crowsnest Pass during Prohibition, and hanged for murder. Filumena was a co-production between Calgary Opera and the Banff Centre for the Arts, with a world premiere in January 2003 in Calgary to sold-out houses. It was re-mounted in August 2003 as part of the Banff Summer Arts Festival, and garnered four Betty Mitchell Awards including Outstanding New Play. It played in Ottawa in June 2005, and in Edmonton in the fall of 2005.
His second opera, Frobisher (also with John Estacio) is based on the life of the English explorer, and given a contemporary context of a film-making project. It was co-produced by the Banff Centre and the Calgary Opera in the 2006-2007 season. His third opera with John Estacio, Lillian Alling was commissioned by Vancouver Opera and premiered in October 2010. It is based on the true story of a young woman's solo journey across North America in the 1920s. Of Murrell's libretto, David Gordon Duke writes: "While Lillian Alling is contemporary opera, it's in a frankly populist tradition. Murrell's libretto is sentimental (not that that's ever out of date in the larger-than-life world of opera), an ambitious mixture of memory piece, adventure saga, love story, and revenge fantasy. His intricate construction darts with practiced agility between eras and conventions. If his words for singing are occasionally a bit prolix, his feel for operatic set pieces is astute. Clever vignettes — a farm dance in North Dakota, Vancouver in the rain, or the soaring first act finale, set in the Oakalla Prison Farm — show Murrell can provide the flashy theatrical goods that traditional opera virtually demands" (Vancouver Sun 17 Oct 2010).
The Inventor, with music by Bramwel Tovey, opened in January 2011 in Calgary. Again based on a true story, it follows the dubious career of a 19th century con man, and the disastrous consequences of his schemes to his friends, family, and himself.
Murrell's plays have been translated into fifteen different languages and performed in more than thirty countries around the world. He worked as Playwright-in-Residence at both Theatre Calgary and Alberta Theatre Projects, as Associate Director of the Stratford Festival of Canada, as head of the Banff Playwrights Colony (1986-1989), as Head of the Theatre Section of the Canada Council for The Arts (1988-1992), and 1999 to 2007 as Artistic Director/Executive Producer of Theatre Arts at the Banff Centre for the Arts.
Murrell was a highly respected arts advocate, mentor, and consultant. In 1998, the National Theatre School of Canada presented him with the Gascon-Thomas award in recognition of an outstanding lifetime of service to arts education in Canada. In 2002 he received the Walter Carsen Prize for Excellency in the Performing Arts, and the Alberta Order of Excellence. In 2003 he was appointed an Officer of the Order of Canada. In 2008, he was awarded the Governor General's Award for Lifetime Artistic Achievement.
Blake Brooker considers John Murrell "a giant" in many respects: "He was an amazing polymath gentleman, a protean creator, translator and writer. He was a mentor to many people across the country, many writers. He was just an old-fashioned gentleman, in a way, with an incredible sense of humour and generous. Just a lovely person" (quoted from calgaryherald.com 12 Nov 2019).
Profile by Anne Nothof, Athabasca University
Last updated 2021-02-10