Palmer, Alisa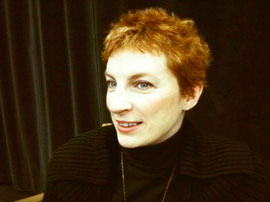 Alisa Palmer
Award-winning playwright and director Alisa Palmer was born in New Brunswick, and has a degree in history at McGill University. As Artistic Director of Nightwood Theatre (1994-2001), she directed the development and premieres of many new Canadian plays including Random Acts, by Diane Flacks, Smudge by Alex Bulmer, and the musical Anything that Moves (Tarragon Theatre 2001), book by Ann-Marie MacDonald with Alisa Palmer, music by Allen Cole. Anything that Moves won Dora Mavor Moore Awards for Script, Direction, Music Direction and Production. She also contributed to the collective creation of The Attic, the Pearls & Three Fine Girls with Martha Ross, Ann-Marie MacDonald, Jennifer Brewer, and Leah Cherniak ( Buddies in Bad Times 1995); Manitoba Theatre Centre 1999; Theatre New Brunswick 2001). The play is published by Scirroco Press. At the 2008 Toronto Fringe Festival, the company she formed with her partner Ann-Marie MacDonald, entitled Froth, presented Bitch -- "tales of unleashed passion, biting wit, canine custody battles and puppy love gone astray."
Alisa Palmer has directed extensively in Toronto theatres, including a workshop presentation of Caryl Churchill's The Skriker for Nightwood Theatre at the duMaurier World Stage Festival, Churchill's Top Girls for Soulpepper Theatre Company (2007), Churchill's Cloud Nine at the Panasonic Theatre (2010), and Hannah Moscovitch's East of Berlin at Tarragon Theatre (2007). She has also directed at Canadian Stage, Alberta Theatre Projects, Theatre New Brunswick and the Shaw Festival. For the Stratford Festival 2013/14 season, she directed Hay Fever at the Avon Theatre. In 2020, she directs the premiere of Hamlet-911 by Ann-Marie MacDonald at the Studio Theatre.
She is the recipient of two Chalmers Awards, including one for A Play About The Mothers of Plaza de Mayo. In 2004, 2007 and 2010 she was short-listed for the Siminovitch Prize in Theatre. According to the jury, "Alisa's work plumbs the subconscious mind and the imagination, bringing about something profound, sombre and playful."
She is currently the Artistic Director of the National Theatre School of Canada's English section.
Profile by Anne Nothof, Athabasca University
Last updated 2019-12-23