Pinsent, Gordon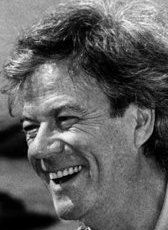 Gordon Pinsent
Popular actor/playwright born in Grand Falls, Newfoundland and Labrador, in 1930. He was the youngest of eight children, two of whom died in infancy. His father died when he was 9.
His stage, television, and film careers track the history of the development of a distinctively Canadian culture.
Gordon Pinsent moved to Toronto with the objective of becoming an actor, then relocated to Winnipeg. He began his theatre career with role in the first play performed on the Rainbow Stage: Just Married, but he credits the support of John Hirsch and Tom Hendry for his first important roles at Theatre 77 (which went on to become one of the companies involved in the Manitoba Theatre Centre). He played Happy in Death of a Salesman at Theatre 77 in 1958, then major roles in Arsenic and Old Lace, A Hatful of Rain, Of Mice and Men and The Glass Menagerie for MTC.
Following the breakup of his first marriage, he moved back to Toronto and performed with the Straw Hat Players, New Play Society, Crest Theatre (1960-69), and at the Stratford Festival. He married actor Charmion King in 1962.
He has since played a wide variety of characters, including those he created for himself in his works John and the Missus (Neptune Theatre, 1976), and The Rowdyman (Charlottetown Festival, 1976).
His other plays include: Easy Down Easy (Gryphon Theatre, 1987), Brass Rubbings (Factory Theatre, 1989).
Gordon Pinsent has performed extensively in Canadian television. He played the title role in the CBC series, Quentin Durgens, M.P. (1966-69), and wrote and acted in A Gift to Last. He also played the ghost of Sgt Fraser, the father of a hero mountie played by Paul Gross in the popular series, Due South. His sensitive portrait of Canadian poet, Al Purdy, Yours, Al, was aired by the CBC in 2006. He has also appeared in The Republic of Doyle, a CBC series set in Newfoundland.
He has acted extensively in Canadian film, including his own film, The Rowdyman (1972), in which he played a charming but irresponsible Newfoundlander, and which was adapted as a novel and a musical by the same name, with music by Cliff Jones. He directed and starred in his film John and the Missus (1987), based on his 1974 novel. He has acted in Allan King's Who Has Seen the Wind? (1975), based on the novel by W.O. Mitchell; Silence of the North (1981); Escape from Iran: The Canadian Caper (1980), in which he played Canadian diplomat Ken Taylor; The Shipping News, as a Newfie newspaper editor; and Saint Ralph as a private school's stern headmaster. In 2007 he played the role of a retired professor losing his wife to Alzheimer's in Sarah Polley's film, Away from Her, based on a short story by Alice Munro.
His performances are marked by an easy manner and geniality.
In 1978 he was inducted into the Order of Canada; in 1999 he was elevated to Companion of the Order (the highest level). He has won many other awards including an ACTRA Award for A Gift to Last (1979), a Genie for Best Actor for John and the Missus (1987); and the Dora Mavor Moore Award for his performance in Anne of Green Gables (1991). In 1992 he was awarded the John Drainie Award for Overall Contribution to Broadcasting, and the Earle Grey Lifetime Achievement Award from the Canadian Academy of Film and Television. He has received honorary doctorates from Queen's University in 1988, Memorial University, and the University of Prince Edward Island.
His autobiography, entitled By the Way, was published in 1992. A second autobiography, entitled Next (with George Anthony) was published in 2012.
He was married to actor Charmion King for 44 years until her death in 2007, and has three children, a daughter and son by his first marriage, and a daughter, Leah, who is also an actor, with King.
Paul Gross has described Pinsent as "preternaturally young, bottomlessly creative; his contribution to our country is immeasurable and his passion for our country is inexhaustible."
Profile by Gaetan Charlebois and Anne Nothof
Last updated 2013-02-21